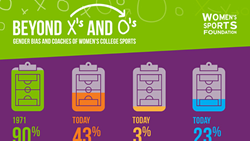 Senior men in power positions have an image of what women coaches should look like. When they don't fit that mold, their jobs could be in peril.
South Hadley, Massachusetts (PRWEB) June 30, 2016
Andy Whitcomb, the head field hockey coach at Mount Holyoke College and president of the National Field Hockey Coaches Association, was one of a dozen national experts asked to weigh in on a new report on gender discrimination in college coaching.
The Women's Sports Foundation report, "Beyond X's & O's: Gender Bias and Coaches of Women's College Sports," sought to explore why women are underrepresented in significant leadership roles and to determine the reasons why the number of female coaches has dropped.
Perhaps surprisingly, the reason appears to be Title IX, the 1972 law that requires gender equity for boys and girls in every educational program that receives federal funding. Among its many positive effects, the law was inarguably a massive coup for women in sports.
After its passage, colleges and schools were required to give female and male teams equal playing space and financial resources. This meant, for instance, that prior to the law, one in 27 girls played high school varsity sports. By 2001, that number had changed to one in every 2.5 girls.
But the law also had some unanticipated—and unintended—effects. When coaches' salaries for female teams were equally funded to their male counterparts, it led to male competition for what were traditionally considered female jobs.
Today only 43 percent of female college teams are coached by women, down from 90 percent in 1972.
"Men realized they could make a good living coaching female teams—and male athletic directors will often hire men for women's teams," said Whitcomb, who works to combat the alarming loss of women coaches at the collegiate level.
Whitcomb joined a panel of coaches, athletic administrators, attorneys, scholars, and gender equity experts who reviewed the report's findings and its policy recommendations. The feedback she and her colleagues provided was reflected in the final version.
The impetus for the report was the 2014 firing of University of Iowa field hockey coach Tracey Griesbaum, who had led her team to 169 wins in 14 seasons. Despite posting 12 winning seasons and making six appearances in the NCAA tournament, Griesbaum was fired based on allegations of emotionally abusive behavior. An internal investigation found no policy violations.
The Griesbaum case was widely reported, including on Iowa Public Radio.
The case brought to light that female coaches are held to a different standard of behavior than male coaches and are far more likely to be fired for the same, or much lesser, allegations as their male counterparts—and replaced by a male.
The "Beyond X's and O's" report revealed the extent of systemic gender bias directed at female coaches of women's sports, noting that "it is not sporadic or limited to a few institutions."
"As a result, women face limitations in pay and professional advancement in the coaching workplace," the report continued. "And it's a trend showing no signs of improvement."
The report was based on collected responses from more than 2,500 male and female coaches to uncover the reasons for the plummeting numbers of women in the field.
Among the key findings:

Men have it easier: eighty percent of female coaches said that it is easier for men to get top-level jobs. Even more (91 percent) said that men had an easier time negotiating salary increases, being promoted (70 percent), and securing multi-year contracts (67 percent).
Fear of retaliation: nearly a third of female respondents expressed fear that Title IX–related complaints would result in retaliation and job loss.
Unfair expectations: four in ten women coaches said they felt discriminated against because of their gender, compared to fewer than three in ten of their male colleagues. Women were also asked to perform tasks not within their job descriptions twice as often as men.
Less leadership opportunity: female coaches said they are less willing to voice their opinions outside of the athletic department and are less involved in decision making inside the athletic department.
Other issues that contribute to the lack of women coaches are similar to those that plague all professions: women with families tend to have less flexibility than men to travel and work long hours, and institutions do not make allowances to ease those burdens.
"Senior men in power positions have an image of what women coaches should look like," Whitcomb said. "When they don't fit that mold, their jobs could be in peril."
The report comes amid a nationwide increase in demands from female athletes and athletic professionals for equality. In addition to the University of Iowa lawsuit and other similar cases, five prominent members of the US national women's soccer team have filed a complaint with the US Equal Employment Opportunity Commission citing wage discrimination.
The good news?
"The jig is up," said Whitcomb. The Griesbaum case is but one of many examples of gender discrimination in athletics and the "Beyond X's and O's" report has forced the issue to the forefront of discussion.
"We have to do better," Whitcomb said. "This report is the first step."