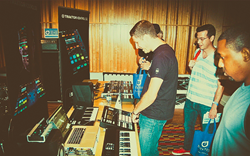 Chicago, IL (PRWEB) June 29, 2016
The International Music Software Trade Association (IMSTA) and SAE Institute, a global provider of creative media education, have partnered to host IMSTA FESTA, an annual celebration of music technology, at the Chicago campus of SAE Institute on Saturday, July 23, 2016.
IMSTA FESTA is an educational, relationship-building, and networking event for the music-making industry. It provides a great opportunity for music producers and anyone interested in the art of making music to learn from highly-recognized music producers, audio engineers and top music technology companies about new techniques in music production, legal software use, and using music software to enhance their skills.
Attendees will include music makers and anyone with music production interests, including professional, semi-professional, amateur musicians, songwriters, music producers, audio engineers, as well as music students and educators.
IMSTA FESTA Chicago is sure to be an exciting event with notable 'heavyweight' music industry professionals and experts - including innovators, audio and music companies convening under one roof to discuss and share their knowledge and perspective on the state of the music business, technology, and much more.
The day's event includes educational panel discussions, vendor demonstrations, prizes and gifts, and the IMSTA FESTA Songwriting Contest. Finalists in the competition will receive over $12,000 in prizes, and the grand prize winner will win a free trip to attend a songwriting camp at Black Rock Studios in Santorini, Greece.
This is the event for creative minds to learn, interact one-on-one with the industry's premier music makers, make new connections, and gain valuable insights and knowledge.
Gavin Lurssen, a master in the art of engineering for over two decades, seven-time GRAMMY® nominee, four time GRAMMY® winner, and board member of the Board of Governors of The Recording Academy is this year's keynote, and is sure to inspire attendees at IMSTA FESTA Chicago. Gavin has mastered albums for notable artists including the Foo Fighters, Ben Harper, Queens Of The Stone Age, Robert Plant and Alison Krauss, Eric Clapton, Miranda Lambert, Rickie Lee Jones and Elvis Costello, and has also showcased his mastering abilities on soundtracks of the video game, Titanfall, movies, Cars 1 & 2, Tangled, the Nashville TV series, The Hunger Games, Crazy Heart and Ratatouille.
Highlights of IMSTA FESTA Chicago will include:

A keynote speech delivered at 12 PM by four-time GRAMMY®-winning mastering engineer Gavin Lurssen (Album Of The Year 'Raising Sand' soundtrack , 'O Brother Where Art Thou?', PBS television series 'Martin Scorsese Presents The Blues', Latin GRAMMY® 'Distinto'), board member of the GRAMMYs®, and owner of Lurssen Mastering studio in Burbank, CA
The Master Class Series where attendees can gain exclusive knowledge on the most coveted products currently on the market, and tips and tricks on how to maximize the efficiency of production tools
2016 Songwriting Competition: enter your original song submission for a chance to win the grand prize to attend Black Rock Studio's in Santorini, Greece! (Chicago submission deadline is July 1st, 2016)
Song Reviews – Bring your song in to have it reviewed and critiqued by a music industry expert
Educational Panel sessions featuring music industry experts who will share insights and fresh perspective on music production, and the state of the industry
Live interactive product demonstrations of the latest studio gear, software, and equipment from a line-up of reputable manufacturers
Raffle and door prizes for some of the hottest tools on the market will be given away throughout the day!
Network with some of the biggest, brightest and best heavy-hitters in the music industry, as well as music industry students and educators
IMSTA FESTA Chicago will be held at the SAE Institute Chicago campus at 820 N. Orleans #125, Chicago, IL 60610 on Saturday July 23, 2016 from 10:30am – 6:00pm. There is no cost for admission and is open to the public with online registration at imsta.org
About SAE
SAE Institute provides aspiring creative media professionals with a foundation of practical theory and valuable hands-on training in their chosen areas of concentration. Under the guidance of our faculty, which is comprised of working industry professionals, students gain the essential experience they need for entry-level jobs in the entertainment business. Our students are supported in their job searches by SAE's international network of alumni, many of whom are leaders in the music, film, game arts, and live performance arenas. We offer programs in audio technology across our seven US campuses, along with a music business program at select locations, all fully accredited and focused on preparing students for employment when they graduate. Bachelor's Degree programs in Animation, Audio, Film, Game Art & Graphic Design are available at the two locations of Ex'pression College, which is owned and operated by SAE Institute Group, Inc. SAE Institute Group, Inc. is a part of Navitas LTD. Learn more at usa.sae.edu.
About Navitas
Navitas is an Australian global education leader, providing pre-university and university programs, English language courses, migrant education and settlement services, creative media education, student recruitment, professional development, and corporate training services to more than 80,000 students across a network of over 120 colleges and campuses in 31 countries. Learn more at Navitas.com.