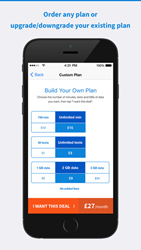 My Tello app - free to download from App Store & Google Play
UK, London (PRWEB UK) 30 June 2016
Starting June, Tello customers can have all their account details at their fingertips, by downloading the free, user friendly My Tello app. From this point on, there's no need for Tello customers to log in to their online account from a browser anymore! My Tello app shows customers their remaining balance, allows them the possibility to make a purchase (change their national plan or top up with Pay As You Go credit) and even displays the rates for international destinations they may want to call.
My Tello app has another plus: when travelling abroad or to remote areas within UK, where Tello does not offer coverage, customers can still call over WiFi using the balance of their account. All customers need to do is download the app for free and:
***Check the balance for all their Tello products: National Plans, Pay As You Go or Plans with international minutes
***Get the same low costs when calling over WiFi
***Manage their account at a glance
***Get direct access to their phone contacts
***Order a new plan or upgrade/downgrade their existing one
***Recharge safe and easy or set up Auto Top Up to avoid running out of Pay As You Go credit
***Run "My Tello" app on multiple devices at once.
The user friendly app adds to the benefits the Tello.co.uk network already offers its UK customers: the fully customizable national plans, the no contract service and last but not least, the amazingly low rates:
***Tello.co.uk allows customers to build their own plans, depending on the number of minutes, texts and data they actually use. Also, they can upgrade or downgrade their plan anytime, without penalties. For example, the cheapest plan is only £3.5/month and offers 100 minutes, 20 texts and 100MB. Still, a more convenient one with Unlimited minutes & 2GB would be £12/month.
***Customer can benefit from 4G services at no extra costs.
***Customers are free to stay as long as they want, as they don't have to sign any contract. Both for Pay As You Go and for the national plans, Tello.co.uk promotes up-front rates, so customers don't need to worry about hidden fees or complex terms and conditions.
***24/7 live support, no robots involved. Tello's friendly Customer Service will answer any call in less than 5 seconds.
Tello also offers great deals for international calls. Customers who call one country frequently may also choose an international plan, with great rates and convenient monthly billing, as the plan renews automatically every 30 days. However, customers can cancel the plan anytime, without any charges, a benefit which applies to both national and international plans.
If users want to stay up to date with all offers and news, they can follow Tello's social media channels: Facebook, G+ and Twitter.
About Tello.co.uk
Tello.co.uk is a telecom provider launched on the UK market in 2014. The company behind Tello is also present in the US serving customers through its Tello.com website.
Both Tello.com & Tello.co.uk are designed by KeepCalling, a global telecommunications company registered in 2002 in USA. Presently, KeepCalling provides its services to hundreds of thousands of consumers and businesses, with a focus on customer satisfaction. KeepCalling has been listed by Inc 5000 as one of the fastest growing companies in the USA for 5 consecutive years. In 2015 the company registered a revenue increase of over 200% from 2011 to 2014.