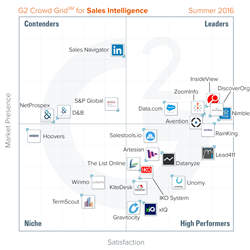 Chicago (PRWEB) June 28, 2016
G2 Crowd, the world's leading business software review platform, today released the Summer 2016 Sales Intelligence Software Grid report to help businesses make the best sales intelligence technology decision. InsideView for Sales, Nimble, DiscoverOrg, ZoomInfo, RainKing, Avention, and Data.com were named Leaders in the report, receiving strong customer satisfaction scores with a large market presence.
Lead411, Datanyze, Salestools.io, Unomy, Artesian, The List Online, IKO System, KiteDesk, xIQ, and Gravitocity were named High Performers in the report, earning strong customer satisfaction marks with smaller market presence scores. Nimble earned the highest overall satisfaction score, while LinkedIn Sales Navigator earned the highest overall market presence score.
The Grid leverages customer satisfaction data reported by authenticated users along with vendor market presence determined from social and public data. Based on a combination of these scores, each software solution is categorized as a Leader, High Performer, Contender or Niche.
Key Findings:

Data accuracy falters – Sales intelligence software users utilize the tools to uncover contact information and company data, but reviewers most frequently discussed how that data is often inaccurate, and more often than not they were dissatisfied with paying for out-of-date information. Products in the Sales Intelligence report were, on average, rated at only 77 percent for contact data accuracy. Reviewers acknowledged that these inaccuracies are widespread, with only four of the 24 products receiving a contact data accuracy rating of 85 percent or greater.
CRM connection – Users appreciated sales intelligence products that connected directly to their CRM programs, allowing them to easily build lists and manage contacts. Users noted that this added integration can offer increased automation and do more to organize leads.
Crowdsourced caveats – A number of products feature crowdsourced contact databases, meaning that users rely on companies or potential prospects keeping up to date with their contact information and job titles. Users had mixed reviews on this type of data, as some found crowdsourced data to be more frequently updated, while others felt that crowdsourced data is only reliable if potential prospects are updating company information on a frequent basis.
About the Sales Intelligence Software Grid report:

The report is based on more than 2,225 reviews written by business professionals.
Of the 111 products listed in G2 Crowd's Sales Intelligence category, the ranked products each received ten or more reviews to qualify for inclusion on the Grid.
About G2 Crowd, Inc.
G2 Crowd, the world's leading business software review platform, leverages more than 80,000 user reviews to drive better purchasing decisions. Technology buyers, investors, and analysts use the site to compare and select the best software based on peer reviews and synthesized social data. Monthly more than a half-million people visit G2 Crowd's site. Co-founded by the founder and former executives from SaaS leader BigMachines and backed by roughly $12 million in capital, G2 Crowd aims to bring authenticity and transparency to business technology research. For more information, go to G2Crowd.com.