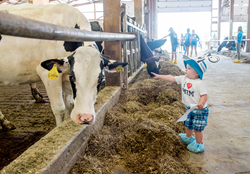 "Ski Vermont is proud to have donated nearly $65,000 to Keep Local Farms over five years and looks forward to continuing this great tradition,"
Ferrisburgh, VT (PRWEB) June 28, 2016
Ski Vermont donated a record breaking $19,050 to the Keep Local Farms Fund at Nea-Tocht Farm in Ferrisburgh, VT on Saturday, June 25, 2016. The donation comes from the proceeds of Ski Vermont's Fifth Grade Passport program, which enabled nearly 3,000 children to ski and snowboard for free in Vermont during the 2015-16 season.
The Keep Local Farms Fund supports the long-term viability of New England's dairy farms through three strategies: educating New Englanders about dairy farming, promoting purchases of milk and other dairy foods, and raising funds to support the sustainability of New England's dairy farms. The Fund partners with local nonprofits, all of which hold projects or programs related to the staples of successful of dairy agriculture.
Ski Vermont has donated to the Keep Local Farms Fund for the last five years with contributions totaling nearly $65,000. In total, 19 alpine and 29 nordic resorts in the state participate in the Fifth Grade Passport program this past year, accounting for nearly all Vermont resorts.
"Ski Vermont is proud to have donated nearly $65,000 to Keep Local Farms over five years and looks forward to continuing this great tradition," said Ski Vermont's Director of Marketing and Communications, Sarah Wojcik. "It is wonderful to see these donations come full circle, directly funding the preservation of our local environment and farms, which along with our mountains are key features of the idyllic landscape of Vermont that draws tourists from all over the world."
Earlier this year, donations to the Keep Local Farms Fund in Vermont were distributed to Dairy Vision Vermont and the Champlain Valley Farmer Coalition. The organizations will use the funds in a variety of ways to help Vermont farmers protect water quality with recommended new practices and technology improvements, as well as provide training on business skills to create successful dairy operations.
"Ski Vermont and New England Dairy Farmers share a common goal – to maintain the beauty of the region while sustaining growth in the local economy," said New England Dairy Promotion Board Public Relations and Communication Specialist Laura Hardie. "Dairy farmers also understand the importance of raising young mountain sport enthusiasts to appreciate the land and locally sourced healthy food."
Ski Vermont's Fifth Grade Passport program is entering its seventeenth year, enabling over 20,000 children to ski at Vermont resorts and inspiring them to connect with the Vermont landscape. Passports are available for the 2016-17 season for a just $10 processing fee. The proceeds from this fee will be donated to Keep Local Farms in 2017. For more information, visit skivermont.com/FGP.
About:
Ski Vermont (Vermont Ski Areas Association) is a proud ambassador of the thriving winter tourism industry in Vermont, where the legislature has designated skiing and snowboarding as the official state sports. Vermont is not only the #1 ski state in the east and third in the US, but also reigns supreme in snowmaking quality and coverage, variety of terrain and historical impact on the sports of skiing and snowboarding - making it one of the most significant ski and ride destinations in the world. Ski Vermont's mission is to help create a legislative, economic and social environment in which the state's ski areas can grow and prosper. It serves its 20 Alpine and 30 Nordic member resorts in three major areas: Governmental Affairs, Marketing and Public Relations.
Nea-Tocht Farm is located in Ferrisburgh, Vermont where they milk 250 cows and manage 800 acres of land. The farm is a member of the St. Albans Cooperative Creamery where the milk they produce is processed and travels from the farm to the grocery store within 48 hours.
Must Be The Milk is an initiative of the New England Dairy Promotion Board. The program aims to educate people about the value of local dairy farms to our economy, our environment and our health and wellness. The Keep Local Farms Fund is the home of Must Be The Milk's funding support for New England dairy agriculture. The Keep Local Farms Fund will partner with New England non-profit organizations to support projects and programs related to three key dimensions of thriving dairy agriculture: Environment, Economy and Education. Learn more at http://www.mustbethemilk.com.