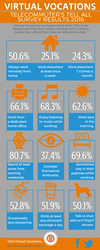 Work flexibility continues to be one of the top benefits people enjoy through telecommuting, we also found that the times at which telecommuters work are just as important as their work locations. -Laura Spawn
Phoenix, Arizona (PRWEB) June 29, 2016
Throughout Telecommute Week, celebrated from March 20-26, 2016, Virtual Vocations implemented a multi-faceted "March Madness Telecommuting Celebration" campaign to provide information and resources to telecommute job seekers utilizing the telecommute website, highlighting telecommute-friendly employers known for hiring remote workers, inspire telecommute job seekers to explore Virtual Vocations' services, engage with social media community members, and learn more about the personalities and remote work habits of telecommuting job seekers.
Virtual Vocations achieved the latter in the form of a lighthearted, 10-question Telecommuter's Tell All Survey that polled registered members about personal and professional predilections that influence telecommuting in patterns, habits and location. The telecommuter survey results were divided into the following categories:
-Work at Home Environment: The survey explored where participants chose to work while telecommuting; a dedicated home office, corner nook or a coffee shop.
-Telecommuting Patterns: Delving into whether people who work remotely are most productive in the morning, at night or on weekends proved to be insightful to patterns within the telecommute community.
-Telecommuter Habits: Insight into work habits like listening to music, working in pajamas and more make up this area of the survey.
"Our goal with this survey was to find out how telecommuting impacts the more personal areas of a person's everyday life," said Laura Spawn, CEO of Virtual Vocations. The survey findings will be used to explore more possible telecommute career fields that lend themselves to a flexible lifestyle.
For additional insights into Virtual Vocations' Telecommuter's Tell All Survey, visit Virtual Vocations for a complete report.
About Virtual Vocations:
Virtual Vocations is the largest and most comprehensive online database of telecommute-only jobs. Offering more than 40 diverse career categories and customizable search filters, Virtual Vocations is committed to helping job seekers gain an advantage in the competitive telecommute job market by finding quality job leads faster and easier. Virtual Vocations has assisted over half a million people in their search for flexible, telecommute jobs and is dedicated to bringing subscribers scam-free job leads that offer some form of telecommuting or virtual work. Virtual Vocations is a private family-owned and 100% virtual company incorporated in [Phoenix, Arizona].