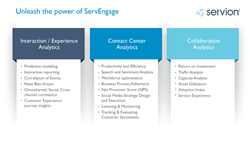 Las Vegas, Nevada (PRWEB) June 29, 2016
Servion Global Solutions, a global Digital Customer Interaction Management specialist, today announced that to meet rising demand from companies for garnering greater customer loyalty, it will demonstrate its cloud-enabled contact center platforms – ServCloud and ServEngage – at the 17th Annual Call Center Week Conference and Expo in Las Vegas, June 27 to July 1, 2016.
These nimble digital platforms allow for a highly-improved customer interaction strategies, based on faster—and more focused—responses to customers across geographies.
Powered by Cisco's HCS, ServCloud is a multi-channel platform to serve customers in their preferred channel - anywhere and anytime. ServEngage is an agile digital platform to achieve Omni channel success in real-time through Next Best Actions.
"Customer experience is the new battleground for loyalty and contact centers are at the heart of the fight," said Sameet Gupte, CEO of Servion Global Solutions. "Smart companies need the digital platforms to win the battle against competitors in terms of customer loyalty—these platforms and their able use will be the difference in being ahead of the pack or in lagging behind," Gupte added.
Backed by two decades of Contact Center experience, Servion provides enterprises, with a digital suite of customer interaction solutions to drive, strengthen their connections with customers across channels
"It is critical to cater to increasingly digitally savvy customers who want to be engaged instantaneously," Gupte said. "With seasoned capabilities in Consulting, Technology, Professional Services, System Integration and Solution Platforms, Servion offers a full-fledged digital customer experience."
Servion works with companies across multiple domains to unify their global Contact Center operations and enhance their overall customer experience. It supports over 600 B2B companies and handles more than 10 billion Omni channel interactions every year.
Call Center Week brings together contact center professionals from organizations large and small across all industries for networking, educational sessions, keynote presentations, and the chance to explore new solutions.
Attendees are invited to stop by booth 221 for a demonstration of Servion's solutions and to meet our sales representatives.
About Servion
Servion specializes in Customer Experience Management (CEM) solutions that help organizations design and deliver superior experience for their customers. With its expertise spread across consulting, implementing and managing CIM solutions and technologies, Servion enhances the effectiveness and efficiency of customer interactions for over 600 organizations across more than 60 countries. On an average, Servion's solutions handle over 7 billion interactions every year across multiple channels and industry verticals, positively impacting customer satisfaction and contact profitability. For more information, contact http://www.servion.com