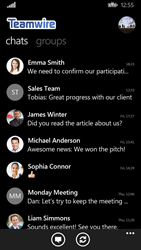 Windows Phone users now benefit from the secure enterprise messaging app of Teamwire. The app improves team communication, collaboration and productivity of the mobile workforce.
Munich, Germany (PRWEB) June 29, 2016
Teamwire today releases its secure enterprise messaging app for Windows Phone. In addition to its existing apps for iOS, Android, Windows, Mac OS and Linux, Teamwire now offers a native app for Windows Phone, and is available on all major platforms.
The Windows Phone app offers all features of Teamwire's other mobile and desktop apps: Users can message 1:1 and group chat in real-time. In order to improve and simplify the information exchange, users can share any digital content like photos, videos, voice messages, locations, files and links. Teams can set up group chats as permanent communication channels for projects, topics and units. Chat members can be managed and a chat administration allows to easily add colleagues to an ongoing team communication. And Teamwire provides read receipts, which are available for 1:1 and group chats.
The Windows Phone app comes with the strong data protection and security of Teamwire. The transmission and storage are end-to-end encrypted as it is required by businesses. Teamwire provides strong privacy protection and full data protection based on high German standards. The app can be fully be managed and configured by enterprise IT. Furthermore the app allows easy mobile application management to ensure maximum security on mobile devices.
Windows Phone is an important mobile platform for enterprises. Teamwire now offers a secure enterprise messaging app for Windows Phone, that improves the team communication and increases the productivity of mobile workers in the smartphone era. The Teamwire app for Windows Phone is available WP 8 and 10, and can be downloaded from the Teamwire website.
About Teamwire:
Teamwire is a fast, easy to use and secure enterprise messaging app. Teamwire improves the internal communication with colleagues and teams, and increases the productivity of businesses and large corporations. Users can send 1:1 and group messages, post status updates, exchange video and voice messages, and share calendar dates, files and much more. Teamwire fully complies with strong German and European data protection needs and is a completely encrypted solution. The service can be easily managed for the whole organization and ensures company-wide compliance. Teamwire is available for all mobile and desktop platforms as a cloud, private cloud or on-premise solution.