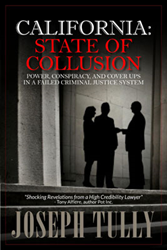 "I'm hopeful the high credibility Mensa community will ignite a national conversation on California's criminal justice failures - the first critical step toward necessary massive reform. - Joseph Tully, California criminal lawyer
San Diego, California (PRWEB) June 28, 2016
Author Joseph Tully, one of California's most controversial criminal defense and civil rights lawyers, is slated for a keynote at the Mensa AG (Annual Gathering) July 2nd in San Diego, California.
Mensa national conference attendees, all with top 2% IQs, will hear Tully's speech California: State of Collusion, based in part on his upcoming similarly-titled book and focused on:

Psychopathic police, drawn to the power invested by We the People in law enforcement officers, who populate California police and sheriff departments in surprising numbers;
Prosecutors and District Attorneys from both rural and urban California cities who regularly collude with police and judges to circumvent Constitutional protections and enhance the "win records" that determine their career advancement; and
California judges behaving wretchedly by blindly ignoring untruthful police and law enforcement misconduct of the most egregious sorts to assure police union and other organizations' electoral support.
Author attorney Joseph Tully regularly amazes and shocks audiences by exposing institutionalized bedlam throughout the Sunshine State's criminal "justice" system where shady jurists, scheming prosecutors, and police gone rogue constantly abuse the power with which we have entrusted them – without any accountability.
"Mensa conference attendees are an ideal audience for this information," said Joseph Tully. "These highly analytical people can quickly see the bigger picture of an out-of-control justice system and hopefully will ignite a national conversation on California's failures that can lead to critically needed massive reform."
Lawyer Joseph Tully's Mensa appearance marks the launch of his California: State of Collusion lecture series.
Media Contact: maggie(at)platformstrategy(dot)com 360.521.0437
Booking Contact: Mr. Tully is represented by Elite Lawyer Management, managing agents for America's best lawyers.
Mensa: Mensa is a nonprofit with a purpose to identify and nurture human intelligence for humanity's benefit while encouraging social and intellectual connections within its membership community. The further purpose includes conducting research in the fields of social science and psychology. The society's sole qualification for membership is top 2% standardized test results.
Joseph Tully: Joseph founded and leads a high profile criminal defense and civil rights law firm, Tully-Weiss that helps people defend their liberty and reputation in a broken criminal justice system. His remarkable record of earning Not Guilty verdicts is based on his willingness to fight back against law enforcement's presumption of guilt and bullying-based system. Joseph provides expert media commentary for publications ranging from Los Angeles Times to High Times. His book California: State of Collusion launches in 2016 with Sutton Hart Press.