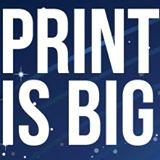 Wheaton, IL (PRWEB) June 28, 2016
Facts and statistics help print service providers sell the value of print
Aleyant, an innovative leader in providing robust software services to the graphic communications industry at value-driven prices, today reported that it has updated its 'Print is Big' site with new print-related facts and statistics. The site is designed as an industry resource to demonstrate the importance of print in the world's economic ecosystem.
"This site was created as a service to the industry," explains Greg Salzman, Aleyant's President. "We wanted to provide industry professionals with a ready resource to debunk the 'Print is Dead' myth, and have recently updated the site with additional facts and statistics, which we will be doing on an ongoing basis."
And the print industry is growing. According to Salzman, "The global printing industry is larger than the global music industry, and in the third quarter of 2015, U.S. printing shipments saw their highest growth rate since 1996. Print is a vibrant industry that provides necessary services to just about every industry. In North America alone, 8.5 trillion letter-size simplex pages are printed annually, which speaks to how important print still is in today's marketplace.
"Print is entering a new era of specialized communication that leverages modern data and analytics technologies and the experiences of a new generation of print business owners who came into the industry at the start of the Internet age," said Dr. Joe Webb, Director of WhatTheyThink's Economics and Research Center. "Many communications decision-makers have little personal experience in the strategic and tactical use of print, and it's up to our industry to demonstrate how multichannel communications can be more effective when incorporating offline media like print."
Be sure to follow Print is Big on Facebook and Twitter for future updates.
For additional information about Aleyant offerings, please visit http://www.Aleyant.com or call +1.630.929.0104.
Our blog can be found at blog.pressero.com.
About Aleyant
Founded in 2005, Aleyant is an innovative leader in providing robust software services to the graphic communications industry at value-driven prices. Its expertise lies in developing highly functional and flexible applications using the most current Web development technologies available, including workflow aimed at lights-out automation. Its flagship web-to-print software, Pressero, is a highly customizable retail and business-to-business storefront interface and has launched many of its clients into the exciting world of Internet-based print sales. Aleyant also offers a Web-based online design and variable data publishing (VDP) system, eDocBuilder, as a separate product. Its solutions are integrated with multiple MIS and web-to-print systems. Our latest product, Aleyant PrintJobManager™ is MIS/ERP simplified. It uses a new mobile, cloud-based approach to MIS that includes a fast means of generating market-driven pricing, job management, inventory tracking, real-time job tracking and estimating.