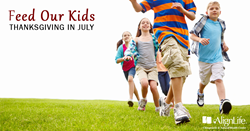 Peoria, IL (PRWEB) June 30, 2016
Summer has arrived and children are out and about enjoying the opportunities that warmer days and longer nights offer. For some families however, Summer is a time that brings food insecurity. Reliance on school provided meals that are no longer available creates a heightened demand at food pantries. Many people donate food during Thanksgiving but the mid summer months are when extra donations are needed.
AlignLife clinics nationwide are teaming up to help feed their communities. They will be collecting donations throughout the month of July. Each clinic will choose a local charity or food pantry to sponsor. In exchange for the public's generous donations, anyone who gives two grocery bags of non-perishable food will be eligible to receive a complimentary consultation and exam. Contact a local AlignLife clinic today for more information.
ABOUT ALIGNLIFE
AlignLife is a chiropractic and natural health franchise founded in 2007 with the mission to provide the highest quality of natural healthcare services to communities around the nation. The integration of chiropractic with other natural health services has proven to save time and money while reducing the hassles of dealing with the complex American health care system. For more information or to find a clinic, visit http://AlignLife.com.