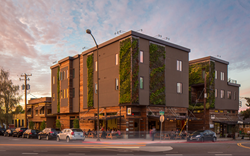 We begin every project thinking about the people who live in our buildings, designing features to improve their quality of life.
Washington DC (PRWEB) June 28, 2016
The U.S. Green Building Council (USGBC) announced that SolTerra is a recipient of the LEED Homes Awards in the "Top Project of the Year" category. The annual LEED Homes Awards recognize architects, developers, homebuilders and projects that have demonstrated outstanding leadership and innovation in the residential green building marketplace.
"Homes represent a critical piece of the buildings industry and our daily life," said Rick Fedrizzi, CEO and founding chair, USGBC. "We applaud these amazing honorees for their significant contribution to greening the residential sector by implementing strategies that positively impact the environment and enhance the health and wellbeing of their occupants."
Developed by SolTerra, The Woodlawn is a LEED Platinum certified 18-unit mixed-use apartment building featuring some of the most innovative design and construction strategies that are shaped to reconnect residents with nature. Constructed with primarily reclaimed and highly renewable materials, and featuring a 4,500 square foot green roof, an outdoor roof terrace, and the largest exterior living wall display on the West Coast.
"We begin every project thinking about the people who will live in our buildings, designing features that will improve their quality of life," says Brian Heather, President of SolTerra. "We understand effective green building is more than just meeting a check list of standards," he added.
The LEED Homes Award winners include multi-family, single-family and affordable housing projects and companies that are trailblazers in the residential sector and have prioritized incorporating sustainability within their projects in 2015.
LEED (Leadership in Energy & Environmental Design) has become the world's most recognized rating system for green buildings. The LEED for Homes rating system was created in 2008 as a way for single-family homes and multi-family buildings to achieve LEED certification. More than 1.2 million residential units are currently participating in LEED.
USGBC's recent Green Building Economic Impact Study found that the residential green construction market is expected to grow from $55 million in 2015 to $100.4 million in 2018, representing a year-over-year growth of 24.5 percent.
About SolTerra
SolTerra is a fast-growing design+build firm creating some of the most sustainable, livable, and innovative buildings in the Pacific Northwest – all LEED Platinum-designed. The company builds beautiful structures to help connect people to nature, create community in urban environments, and reduce our impact on the earth. Solar power, eco-roofs, living walls and other unique features, bring high performance and energy efficiency into all multifamily projects. SolTerra owns, designs, builds, and manages its properties, with its own developers, architects, contractors and property management. The company has offices in Portland and Seattle.
About the U.S. Green Building Council
The U.S. Green Building Council (USGBC) is committed to a prosperous and sustainable future through cost-efficient and energy-saving green buildings. USGBC works toward its mission of market transformation through its LEED green building program, robust educational offerings, an international network of local community leaders, the annual Greenbuild International Conference & Expo, the Center for Green Schools and advocacy in support of public policy that encourages and enables green buildings and communities. For more information, visit usgbc.org.