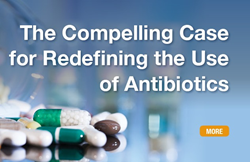 Successful ASPs are complex undertakings. When properly implemented, these programs are proven to reduce bacterial resistance and thus improve patient outcomes.
Knoxville, TN (PRWEB) June 29, 2016
A new white paper from PYA, "The Compelling Case for Redefining the Use of Antibiotics ," brings to light the worldwide antibiotic-resistance crisis and builds the case for reducing antibiotic usage through the implementation of evidence-based antibiotic stewardship practices, thereby laying the foundation for population health.
The historic use of antibiotic drugs has contributed to the increase in antibiotic resistant infections which now claim at least 23,000 lives each year in the U.S. According to the Centers for Disease Control and Prevention (CDC), 20-50% of all antibiotics prescribed within U.S. hospitals are either unnecessary or inappropriate.
White paper co-author and infectious disease specialist James M. Keegan, M.D., agrees, "Providers and patients would benefit from an approach of aggressive diagnostics and conservative therapeutics. Working together, providers can establish and enforce evidence-based standards of care to improve outcomes and reduce costs."
In an effort to improve the use of antibiotics, the CDC has advised acute care hospitals to implement antibiotic stewardship programs (ASPs), a recommendation reinforced by the Centers for Medicare & Medicaid Services' intention to require that hospitals, critical access hospitals, and long-term care facilities incorporate ASPs as a mandatory Condition of Participation.
Crafted with these providers in mind, PYA's white paper outlines the advantages and core elements of an effective ASP and highlights proven and powerful clinical successes through several case studies. The paper demonstrates how a properly implemented and integrated ASP can deliver the Triple Aim result of improving patient care, reducing costs, and improving the overall health of a community.
According to the whitepaper, "Successful ASPs are complex undertakings. When properly implemented, these programs are proven to reduce bacterial resistance and thus improve patient outcomes. Moreover, the return on investment has proven significant, with lower facility operating costs attributable to improved prescribing practices."
With more than 20 years of ASP experience and a record of proven results, PYA delivers a comprehensive solution for healthcare providers across the U.S. PYA's interdisciplinary team of MDs, infectious disease specialists, RNs, C-Suite CEOs, CMOs, and other executives focuses on developing and refining single-facility and system-wide, community-based ASP initiatives, providing essential, life-saving treatment protocols for patients. As such, PYA offers unparalleled expertise in ASP prescribing modification, access to world-class data analytics, and established best practices.
About PYA
For over three decades, PYA (Pershing Yoakley & Associates, P.C.), a national healthcare consulting firm, has helped clients navigate and derive value amid complex challenges related to regulatory compliance, mergers and acquisitions, governance, business valuations and fair market value assessments, multi-unit business and clinical integrations, best practices, tax and assurance, business analysis, and operations optimization.
PYA's steadfast commitment to an unwavering client-centric culture has served the firm's clients well. PYA is now ranked by Modern Healthcare as the nation's 9th largest privately owned healthcare consulting firm. PYA affiliate companies offer clients world-class data analytics, clinical operational healthcare consulting, professional real estate development and advisory resources for healthcare providers, comprehensive claims audits for self-insured Fortune 500 companies, wealth management and retirement plan administration, and business transitions consulting.
For more information, please visit http://www.pyapc.com.