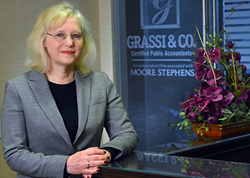 New York, NY (PRWEB) June 28, 2016
With the passage of United Kingdom's June 23rd European Union referendum under a sharply divided national vote, the British exit from the E.U., commonly referred to as Brexit, has every indication of creating fallout stretching well beyond its borders. Much of the impetus behind the votes in favor of Brexit was a reaction to increased E.U. regulation and control—especially in regards to immigration policies. However, the quick reaction to the decision, evidenced in the precipitous drops in value of the British pound, the euro, the global stock market and lowered U.K. bond credit rating, raises fundamental financial and tax concerns.
It can be reasonably anticipated that while the terms of the actual departure from the E.U. have yet to be negotiated, it will certainly take time, and will ultimately determine the long-term effects.
"Additional fallout in the near term is likely to include greater movement of financial activity (including insurance) to other countries in the E.U. per favorable E.U. policies," said International Tax Partner of Grassi & Co., Magda Szabo. "Outflow of capital and multinational professionals can further result in a diminished investment sector and lower real estate prices as demand for housing is reduced."
She also added, "While the drop in values does create U.K. inbound investment opportunities, especially for cash-rich offshore investors, U. S. exports of goods and services may suffer as the ability to buy can diminish. Interest rates in the U.K could also rise; further augmenting this result."
As noted, the costs impacting the ability to deploy a mobile multijurisdictional workforce for the near future should also increase as will U.K. ability to obtain lower cost labor from outside its borders. Outside of E.U. regulations, which eased or eliminated labor certification issues for all participating member countries, the U.K. has a relatively costly and time-consuming process to obtain labor certification. This will impair access to lower cost labor from other countries. Hence industries dependent on the U.K. for goods or services will likely face increased costs.
On the tax side, multinationals with interests in the E.U. or the U.K. need to re-examine their structure and eligibility for treaty benefits given the contingency of E.U. status present in a number of treaties. Until new treaty provisions can be negotiated and executed, withholding and overall income taxes should increase where reorganization to avoid such limitations cannot be timely effectuated.
Separate from tax treaties, E.U. membership provides to participating member countries exemptions from taxation (viz., no withholding) for subsidiary to parent dividend payments. Exemptions from taxation by the source country also exist for general payments for royalties and interest. Unless and until the U.K. can separately negotiates new agreements, the increased tax levy shifts tax revenue away from the U.K. and potentially increases the cross of cross border business with E.U. countries.
Separate from labor certification issues, E.U. member countries have agreements in place that eliminate a dual liability for welfare taxes (viz., social security or similar taxes such as national health insurance) for workers temporarily employed in another member country. Until new agreements are executed, this additional cost at the individual taxpayer level, foreseeably further impairs (in terms of costs or a readiness to move) transferability of employees to other E.U. countries.
The E.U. VAT rules have been streamlined and simplified in recent years to allow for favorable rates, reporting and/or movement of goods in specified situations in order to ease the barriers to multijurisdictional E.U. businesses. If not re-negotiated on a stand-alone basis, Brexit could increase the cost from a tax or administrative compliance perspective for multijurisdictional E.U./U.K. businesses. While some VAT may be refundable, a cash levy, where none existed before, does create some level of new cash flow issues that did not exist previously. Should the U.K. system become divergent from that of the E.U. (or vice-versa), the potential for double taxation exists.
Customs duties will be impacted. Currently, there are no customs duties within the E.U. territories and common tariffs are shared with non-E.U. countries. Hence Brexit will trigger imposition of tariffs where there weren't any, adding additional costs to doing business—which will also need to be addressed.
Membership in the E.U. also provided access to a broad network of preferential trade agreements with third countries. All such agreements will now need to be separately negotiated and, until in effect, will increase cross border costs of U.K. businesses.
The impact of Brexit will ultimately turn on terms that are to be negotiated both as part of Brexit and as part of the U.K.'s new autonomous stature. It will take years to negotiate and finalize such new agreements. In the near term, reorganization for multinationals, additional costs, legal limitations and potential investment opportunities all should be kept in mind for both U.K. and E.U. transactions.
Magda Szabo, J.D., LL.M., CPA, is a Tax Partner in the NYC Office of Grassi & Co. and specializes in international and domestic tax and wealth planning.
About Grassi & Co.: Grassi & Co., the 73rd largest firm in the U.S., is a premier professional service organization specializing in accounting, auditing, tax, technology, and business consulting services. Grassi & Co. has offices in Manhattan, Long Island and Rockland County, NY as well as internationally through its association with Moore Stephens International. Grassi & Co. specializes in professional services for the Not-for-Profit, Construction, Architecture & Engineering, Financial Services, Life Sciences, Manufacturing & Distribution, Retail, Technology, Media & Telecommunication, Transportation, Energy & Natural Resources, and Healthcare industries, among others.