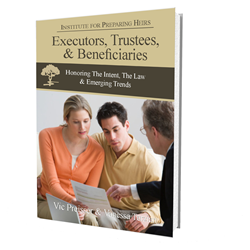 Heirs prepared for wealth and responsibility are likely to do well with executors and trustees . . . and evolve into good beneficiaries.
Pasadena, California (PRWEB) June 30, 2016
"Executors, Trustees & Beneficiaries: Honoring The Intent, The Law & Emerging Trends," a new 141-page book from the Institute for Preparing Heirs®, explores the relationships between wealth creators, their wealth advisors, those chosen to be executors and trustees, and the beneficiaries who ultimately benefit.
This book asks and answers questions that look beyond the legal and fiduciary responsibilities of executors and trustees by bringing a much-needed new perspective on the use of wills and trusts as tools to preserve the family's values and cohesiveness while protecting its assets.
"Executors, Trustees & Beneficiaries" talks about what makes a good executor and trustee, and why it's just as important to prepare the beneficiaries to receive and manage wealth as it is to prepare the assets for transfer. According to the authors, Vic Preisser and Vanessa Terzian, estate planners and attorneys are skilled at writing the legal language creating a will and trust, but the problems for executors, trustees and beneficiaries arise as a result of unresolved issues among family members.
The underlying premise of the book is based on studies that have shown that most family estates struggle to survive in the first three generations, post-wealth transition. Assets are lost and family unity is disrupted. The main causes are driven by the breakdown of trust and communication within the family, unprepared heirs, and the lack of an agreed upon mission or purpose for the assets being transferred.
The authors write: "Heirs prepared for wealth and responsibility are likely to do well with trustees and executors, and are likely to be good executors themselves, and almost certainly evolve into good beneficiaries. . . . Before the estate documents are drawn, families need to have inheritance conversations centered on the meaning of 'family' and purpose to their wealth. These conversations bring the family together before, during and after the wealth transfers."
The book contains a series of useful checklists that individuals can use before saying "yes" to a request to serve as executor or trustee. Trust creators can use these checklists to ensure those asked to serve are capable of not only administering the will or trust but also will work with the beneficiaries to foster their goals and ensure the family's values live on as a part of an enduring legacy.
Mr. Preisser also wrote the book "Family Meetings: Creating Fun, Meaningful Conversations, Beyond the Money" and co-wrote the highly acclaimed book, "Preparing Heirs." Ms. Terzian is an estate planning attorney.
To purchase copies of "Executors, Trustees & Beneficiaries: Honoring The Intent, The Law and Emerging Trends," go to http://www.preparingheirs.com.
ABOUT INSTITUTE FOR PREPARING HEIRS®
Founded in 2009, Institute for Preparing Heirs® is the financial industry's top independent generational wealth transfer training resource for advisors, providing current content, new research, and leading-edge tools for trusted advisors who serve affluent families and their beneficiaries.