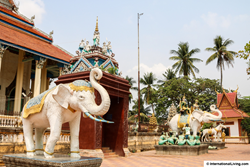 Retirees looking to stretch their Social Security benefits will find safe, culturally rich Battambang, Cambodia an excellent-value option.
Baltimore, MD (PRWEB) June 29, 2016
Battambang, in northwest Cambodia, is a safe, welcoming, slow-paced place. According to a new report from InternationalLiving.com, expats there report that a popular pastime is simply sitting down to enjoy a cool drink and meet new people.
Cambodia's second-largest city (home to around 250,000 people) doesn't feel at all like the bustling capital, Phnom Penh. While most of Southeast Asia is developing at breakneck speed, Battambang gives the impression that it's quite content to have settled into an earlier, simpler time.
In keeping with Cambodia as a whole, the cost of living in Battambang is low. Renting a house is particularly inexpensive. Houses with modern, Western-style conveniences range from around $205 to $409 a month. Small, two-room furnished apartments, with a swimming pool, housekeeping, and most utilities included, will cost less than $285 a month.
Pat Music, a native of Kansas and a long-time traveler, has lived in Battambang for the past four years. She lives comfortably on her small Social Security income and teaches English for a few hours every week. "My monthly bills come to about $255 to $309, and that's including rent, water, electricity, and internet. I buy my food at the market and I usually cook at home. Going out to lunch is my biggest expense, though that usually comes out to just around $5 or so. I walk everywhere. My average monthly budget is less than $509."
There is scarcely a business in town that stays open past 9 p.m., and this suits Pat and many of the other expats in Battambang just fine. "I don't need the nightlife and the parties," Pat says, "so it works out perfectly for me."
However, expats in Battambang don't lack for culture. The city is home to a large art university, which has attracted artisans and craftsmen from all over Cambodia. As a result, Battambang is experiencing a cultural revival, with several galleries showcasing work from Cambodia's best artists. Galleries will often double as coffee shops, and businesses throughout town display art, murals, and fine local handicrafts.
Still, it's possible to walk from one end of the town center to the other in about 30 minutes, following the paved walkways that line both sides of the Sangker River, which runs through the middle of town. Well-maintained parks along the river banks are a draw for the townsfolk, who come to play with their children at the playgrounds, meet their friends and sweethearts, enjoy the shady benches, and work out on the exercise equipment. On either side, Buddhist wats (temples) provide a tranquil refuge for inspiration, rest, and reflection.
Pat prefers to walk whenever possible. "If I do choose to have public transport, I can take either a motorbike taxi for 50 cents or a tuk-tuk for $1." Tuk-tuks are everywhere and rarely charge more than $1 per person for any destination within a mile of the town center. Owning a bicycle (as many expats do) eliminates even that low expense.
Although there is a medical clinic in Battambang with an English-speaking doctor, most expats generally expect to go to Bangkok in Thailand for anything serious. Most people have medical evacuation contingencies in their health insurance.
Many other expats report extremely low living expenses and a high quality of life in Battambang. Their stories can be found in a new International Living report at: A Comfortable Lifestyle for $509 a Month in Cambodia's Second Largest City.
Editor's Note: Members of the media have permission to reproduce the article linked above once credit is given to InternationalLiving.com.
For information about InternationalLiving.com content republishing, source material or to book an interview with one of our experts, contact Associate Editor Carol Barron, 772-678-0287 (US), CBarron(at)InternationalLiving(dot)com or visit the Media Center.
For 36 years, InternationalLiving.com has been the leading authority for anyone looking for global retirement or relocation opportunities. Through its monthly magazine and related e-letters, extensive website, podcasts, online bookstore, and events held around the world, InternationalLiving.com provides information and services to help its readers live better, travel farther, have more fun, save more money, and find better business opportunities when they expand their world beyond their own shores. InternationalLiving.com has more than 200 correspondents traveling the globe, investigating the best opportunities for travel, retirement, real estate, and investment.