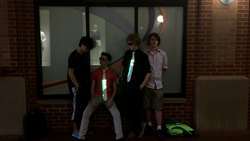 In the three hours me and some friends spent filming clips for the product video, probably around 20 people came up to me and asked where they could get the tie
North Bethesda, MD (PRWEB) June 28, 2016
Darius Kuddo, 15 years old, released today on Kickstarter a revolutionary necktie, The Lumen Tie. The first tie to ever feature Bluetooth connectivity, The Lumen Tie is a light up tie made up of 100 bright, multicolor LEDs. It can be controlled from a smartphone, or even a smartwatch, to change what pattern is displayed, enter a text message that will scroll on the tie, or control the brightness of the LEDs. Certain games that play on the tie can be controlled directly from your phone, or controlled by the AI on the tie.
Attention Grabbing
The Lumen Tie is a piece of clothing that is sure to get people's attention.
"In the three hours me and some friends spent filming clips for the product video, probably around 20 people came up to me and asked where they could get the tie," said Darius Kuddo. "Whenever I ask someone to give feedback for my website, their only question is: 'where can I buy it?'"
Unlimited Customization
Even though the tie comes with a wide variety of patterns, users can even program the tie themselves. The Lumen Tie's patent pending design features a microcontroller powered by Arduino, the world's most popular prototyping platform, which means the millions of people who are already familiar with Arduino are able to program custom patterns into the tie with minimal support. For those who don't know how to code, they can use a web-based configurator, also patent pending, to select the patterns they want on the tie. The user just downloads the generated code file and uploads it to the tie.
Pricing and Availability
The Lumen Tie is available now on Kickstarter, and costs $99.
About the Inventor
Darius Kuddo, 15 years old, has experience in 7 programming languages, including Objective C, C++, Java, Javascript, HTML, PHP, and CSS. He has authored 8 mobile apps currently available and has two patents pending. He lives in the Washington D.C. area and attends St. Anselm's Abbey School.