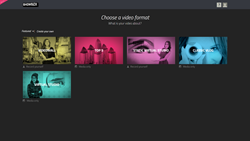 Video content is not a luxury, it's an absolute necessity, and the brands that use it best know that the content must be fresh, engaging and creative
Tel Aviv, Israel (June 29 2016) (PRWEB) June 29, 2016
Showbox, the intuitive digital video creation platform, today announced the launch of Showbox for Brands. The new offering empowers brands, marketers, and businesses to create high-quality custom videos that connect with audiences in order to grow brand awareness at scale, no prior production experience required.
Working through a dedicated channel, brands are able to custom build branded video content in minutes, resulting in an entirely unique video creation package. Showbox works with the largest multi-channel networks such as BroadBandTV, Awesomeness TV, and FullScreen Media to deliver influential talent to their brands, as well as leading global providers of imagery such as Shutterstock and Getty.
"Video is the most effective channel for driving engagement, but brands are forced to choose between bland video content, or the extremely high cost of creative video. Showbox enables brands to scale the creation of amazing video content, and our new platform empowers them to maximize the use of this channel," said Effi Atad, Co-Founder and CEO of Showbox. "Showbox for Brands enables brands to take full advantage of the content audiences want to create by maximizing everything from scalable creative content to digital influencer engagements to user generated content. Our new brand platform drives rapid video production, allowing brands to guide the creation process while maintaining brand integrity."
Showbox currently provides the most technologically advanced and comprehensive digital platform for video creation and production, allowing brands, publishers, and creators to produce professional grade video content at scale. The launch of Showbox for Brands follows the announcement in April of partnerships with the largest global multi-channel networks from whom the company has on-boarded over 100,000 leading video creators.
Showbox for Brands is a comprehensive suite designed to address the growing needs of brand marketers:
Brand Suite- designated for the brand's own marketing team, enabling it to scale its branded video creation efforts, using customized video creation packages and show building formats as well as templated episode structures for quick and continuous creation.
User Generated Content Campaigns- a white label solution for fan activation campaigns using a simplified branded creation process, enabling fans to create customizable branded video content without requiring any video creation experience and while maintaining brand integrity. UGC campaigns include an analytics dashboard, allowing the brand to oversee creation and monitor results live.
Influencer Engagement- influencers can produce branded video content easily and at scale, while ensuring the brand has final control over the end product. Partnerships with the top global MCNs enable brands to identify the perfect influencer for them and effectively manage the relationship.
Video content marketing for brands has become a staple in the age of the social consumer. 70% of marketers will increase their budget this year on video while 82% of brands have confirmed video has a positive impact on their business; and as Facebook delivers CPC video monetization model, brands are paying extra attention to the power videos and these platforms can have.
"Video content is not a luxury, it's an absolute necessity, and the brands that use it best know that the content must be fresh, engaging and creative," said Tamar Yaniv, CEO and co-founder or Preen.me. "Showbox answers a real need in the market, enabling content creators the world over to substantially upgrade the quality of the videos they create. For Preen.Me's 10,000 influencers, this means content that is even more engaging for our audience of beauty addicts."
Preen.Me is a next generation marketing platform, helping brands use customer voices to tell brand stories. Currently focused on the beauty industry, Preen.Me utilizes an army of content creators and a social following of over 2.3 million to create authentic user generated content and meaningful social engagement for brands.
For more information or if you would like to create your very own video using Showbox, click here.
About ShowBox
Showbox, the leading comprehensive video creation and production platform, was founded in 2013 by co-founders Effi Attad and Tomer Afek. Showbox is a cloud-based full cycle video production tool that enables any brand or creator to engage its followers in a sustained, creative dialogue through professional-grade videos ready for publication across any network with a click. Current partners include Broadband TV, Fullscreen, Awesomeness TV, and more.