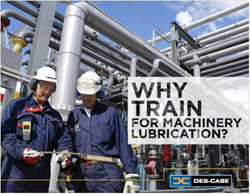 Like most improvement initiatives, education is an investment.
Nashville, TN (PRWEB) June 29, 2016
Des-Case, a global manufacturer of specialty filtration products, has released new whitepaper "Why Train for Machinery Lubrication?" The eBook can be downloaded at http://bit.ly/1t6iUsb.
"Like most improvement initiatives, education is an investment," said Product and Educational Services Manager Jarrod Potteiger. "To ensure the greatest measure of success, it is essential that all individuals involved with the maintenance or operation of lubricated equipment be educated to some extent on the theory and practice of world-class lubrication techniques."
Companies who invest at least $900 per employee in training see 38 percent greater returns than those who invest only $275 per employee, according to a study performed by ASTD (American Society for Training and Development). Des-Case's new eBook explores the benefits of best-in-class lubrication training and provides a roadmap for successful implementation.
In this new guide, lubrication professionals will learn:
-How to develop lubrication training standards
-The level of training required by each employee
-How to develop skill assessment standards
In addition, Des-Case offers lubrication training courses for both companies and individuals, including a 1-day workshop, 3-day PML and customized training programs. To learn more, visit http://bit.ly/1t6iUsb.
About Des-Case Corporation
Headquartered near Nashville, Tennessee, Des-Case Corporation manufactures specialty filtration products for industrial lubricants. Founded in 1983, the company markets a broad array of products designed to help companies make equipment investments last longer. Des-Case has worked with some of the world's largest companies, both directly and through partners. Its trademarked and patented solutions are marketed through an extensive distribution network, private label distributors, and OEM partners. For more information, visit http://www.descase.com or call 615-672-8800.
Contact:
Contact: Sr. Marketing Communications Mgr. Jay Denslow
Organization: Des-Case
Phone Number: (615) 672-8800
Email: jay(dot)denslow(at)descase(dot)com