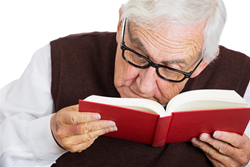 Our goal is to enhance the patient's quality of life by providing improved vision for daily activities
Alexandria, Virginia (PRWEB) June 29, 2016
Low Vision in Alexandria, Virginia:
This new low vision center allows LVS to expand its collaboration with local optometrists, ophthalmologists, and renowned retina specialists who seek referrals for patients with challenging low vision conditions. Patients in Alexandria who have exhausted traditional low vision treatments will now be able to easily access the highly advanced care and state-of-the-art options available at LVS.
Low Vision Specialists of MD & VA is known as a leading ophthalmic authority within the specialty category of low vision and a leader in quality patient care and service. The specialists at LVS provide vital expertise for patients who may have been told there is nothing more that can be done to improve their eyesight. These patients suffer with decreased vision from significant eye diseases such as Macular Degeneration (wet and dry), Stargardt's Disease, Diabetic Retinopathy, Retinitis Pigmentosa, and other severe vision limiting conditions. "Our goal is to enhance the patient's quality of life by providing improved vision for daily activities," said Dr. Thomas Azman. "We continually seek innovative low vision options so that we can provide our patients with the best and most effective solution for their specific vision impairment."
LVS offers individualized referral programs to meet the specific needs of each physician practice and their patients, including convenient evaluations at the office of the referring physician or at LVS locations. LVS is proud to offer House-Calls for those individuals who are home-bound. The new Alexandria low vision center is now scheduling patients and accepting patient referrals for low vision services beginning July 19th, 2016. Appointments can be scheduled by calling (703) 372-9733 or e-mailing Alexandria(at)LowVisionMD.org. BY APPOINTMENT ONLY
About Low Vision Specialists of MD & VA
Low Vision Specialists of Maryland and Virginia (LVS) specializes in maximizing patient vision and customizing optical systems for adult and geriatric patients suffering with vision loss caused by aging and/or ophthalmic disease, as well as children suffering with Stargardt's disease. LVS improves the quality of life for patients whose vision loss makes daily activities difficult or impossible. Founded in 1975, the practice has a 98% success rate in improving patient vision. LVS is a member of The International Academy of Low Vision Specialists (IALVS), and has multiple locations in Maryland and Virginia.