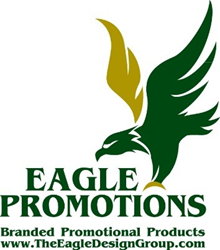 "Purchasing the adjacent 40,000 sf building was an easy decision knowing it would help us reach our vision for growth." explains Mario Stadtlander
Las Vegas, NV (PRWEB) July 05, 2016
Las Vegas-based Eagle Promotions recently expanded and is now situated in 75,000 sf of office/warehouse space. Eagle Promotions' state of the art facility currently holds 8 automated screen printing presses and one with 22 stations and 18 colors and has the ability to print 1,000 shirts per hour. Eagle Promotions is currently the largest screen printer in Nevada and one of the largest screen printers in the nation and prints 20,000-40,000 shirts per day.
"Purchasing the adjacent 40,000 sf building was an easy decision knowing it would help us reach our vision for growth," explains Mario Stadtlander, co-owner of Eagle Promotions. "Before the expansion, we were bursting at the seams. Now we have adequate space for our nearly 200 employees, including our growing sales team and in-house graphic arts department. Since our expansion, we have brought our embroidery in-house. We are also investing an additional $1 million to expand our capabilities and putting the finishing touches on setting up the largest display showroom in the nation. The new 14,000 sf showroom will showcase some of the most sought after brands in the world. In addition, the extra warehouse space will give us the opportunity to broaden our fulfillment program and allow us to expand our screen printing capabilities by adding more presses and equipment."
Eagle Promotions was recently identified as one of the nation's Top 50 Distributors by Promo Marketing for the second time in three years. With its current expansion, Eagle Promotions is certain to be a permanent name on that prominent list.
About Eagle Promotions:
Eagle Promotions is a certified minority owned company specializing in custom promotional branded products and apparel. Eagle Design Group, a division of Eagle Promotions, also offers custom retail branded merchandise and fashion and trend forecasting for its global retail clientele. As an industry leader, Eagle Promotions offers its clients' incentive solutions, online stores, managed programs, special orders and more. Eagle Promotions offers partnerships with the worlds most recognized and sought after brands while delivering the best quality and price with operational expertise. Its clients include Fortune 100 companies, theme parks, hotels, casinos, professional sports teams, airport retailers, celebrities and some of the most iconic branded products in the world. For more information about Eagle Promotions, call (866) 785-7100 or visit http://www.eaglepromotions.com. Eagle Promotions is located at 4575 W. Post Road #100, Las Vegas, NV 89118.