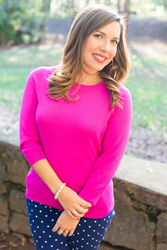 Atlanta, GA (PRWEB) June 29, 2016
Lauren Bowling, 29, an award-winning blogger and entrepreneur, was named to Atlanta's 11th Annual Power 30 under 30™ list. The Apex Society, an international young professionals organization, in conjunction with Porsche Cars of North America, announced the list of award recipients last week.
Bowling is the founder and editor of the personal finance blog, L Bee and the Money Tree, which she has been running since 2012. Each month Bowling posts to over 100,000 readers who visit the site for authentic advice on financial education and money management, home ownership, debt pay off, entrepreneurship and earning more income. Her philanthropic activities include financial education workshops for local youth and non-profit organizations and involvement in national financial literacy events, such as Phroogal's annual Road to Financial Wellness event.
The Power 30 Under 30 Award showcases Atlanta's top young professional leaders for their drive and determination to excel in their industries and give back to the community. Winners of the Atlanta Power 30 Under 30™ were selected from a pool of hundreds of finalists in the categories of 1) Arts, Entertainment & Media 2) Business 3) Community Service 4) Politics 5) Science & Technology and 6) Sports.
Bowling was honored alongside other award recipients at a ceremony and reception hosted by Porsche Cars of North America Inc. on Thursday June 23rd, 2016.
About L Bee and the Money Tree
L Bee and the Money Tree is a personal finance site for busy millennials interested in growing all aspects of their personal wealth. Termed a "financial diary" of blogger Lauren Bowling's triumphs and successes with finance, the site offers readers real life advice on a variety of topics including money, debt payoff, and first-time home ownership. Bowling's expertise has been featured in the pages of Redbook and Woman's Day magazines and on leading financial news sites such as Forbes, The Huffington Post, Yahoo! Finance, and U.S. News and World Report.
Bowling is a 2014 recipient of the Plutus Award, which honors the best in personal finance media for her companion web series, Awkward Money Chat. In 2013, L Bee and the Money Tree was selected from thousands as one of Shareaholic's top 10 blogs to watch. Find out more at http://www.lbeeandthemoneytree.com or @lbeemoneytree on all social media platforms.
About the Apex Society
The Apex Society The Apex Society is an international young professionals club (by invitation only) founded in 2000 that fosters a sense of community through positive business, personal, and educational relationships for its members. The Apex Society's members are the brightest and most accomplished young professionals around the world. The organization also creates opportunities for its members to give back to the community, especially community organizations whose mission is to build the next generation of overachievers. For over a decade, The Apex Society has hosted its signature Power 30 Under 30™ awards presentations around the world. Website: http://www.power30under30.com