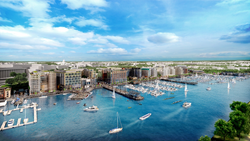 WASHINGTON (PRWEB) June 29, 2016
Kebony was recently selected for use in the construction of The Wharf, a new commercial and residential development in Washington, D.C. along the Potomac River. Opening in October 2017, Kebony will be used for more than 100,000 square feet of decking, as well as cladding on certain store fronts and rooftop decks.
Construction of the $2 billion development is currently underway. The Kebony portion of construction will begin in the spring of 2017. The D.C.-based developer duo of PN Hoffman and Madison Marquette teamed up to form Hoffman-Madison Waterfront to create an eclectic mix of uses and public spaces connecting people to the waterfront. Clark Construction Group is constructing the public spaces at The Wharf.
"This is a really neat opportunity for us as Kebony becomes well-known and recognized in the U.S. for its waterfront applications," said Andy Hehl, manager for Kebony US. "The Wharf has chosen a beautiful, modified wood that's sustainable and durable at the same time."
Developed in Norway, the Kebony technology permanently modifies the properties of sustainable softwood, giving it the same characteristics as the most durable tropical hardwoods. This modification process allows the wood to stand up to the elements, especially in a waterfront environment. Chosen for its beauty, performance and environmental credentials, Kebony is perfectly suited for a project located right on the Potomac River, where it will hold its quality over time. As it's exposed to sun and weathering, the wood transitions from a deep brown color to a beautiful silver-gray patina, all while keeping its low-maintenance durability.
"The Wharf team carefully selected beautiful and durable materials that enhance the built environment," said Monty Hoffman, founder and CEO of PN Hoffman. "This unique development is transforming D.C.'s Southwest Waterfront."
# # #
Twitter:
@KebonyWood
Media Contact:
John Everette
Walker Sands Communications
T: 312-964- 9102
E: john.everette(at)walkersands.com
About Kebony Technology:
The Kebony technology is a patented process which enhances the properties of non-durable wood species to give them similar characteristics to the best performing woods. Through a sustainable process wood species such as pines and some non-durable hardwoods are impregnated with a bio-based liquid derived from agricultural crop waste. With the addition of heat, the furfuryl polymer is permanently grafted into the wood cell wall, resulting in greatly improved durability and dimensional stability.
About Kebony Wood:
Kebony is suitable for both internal and external applications that demand high performance and great aesthetics including: decking, flooring, cladding, roofing, windows, indoor and outdoor furniture. Over time Kebony acquires its characteristic silver-grey patina while not losing its performance characteristics. With improved durability and dimensional stability Kebony is becoming increasingly the choice of leading architects and developers enabling them to use wood in projects without causing environmental degradation. Kebony has been used both internationally and in the U.S. on many projects from commercial, public, residential and marine, a few examples of these would be; Hunter's Point South Waterfront Park in New York, The Inn at Harbor Shores in St. Joseph Michigan, an award-winning residential "Wedge House" in Palo Alto, California. A recent study by Norwegian environmental consulting firm Bergfald & Co. demonstrated that Kebony has a substantially lower carbon footprint than its tropical hardwood equivalents.