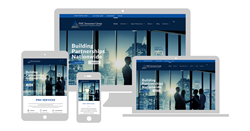 When agencies choose Axiom, they're trusting a very established and capable team to develop a beautiful and efficient website."
WESTLAKE VILLAGE, CA (PRWEB) June 30, 2016
Stratosphere Marketing Solutions, a digital marketing firm, recently announced the launch of a custom website solution called Axiom.
Axiom is a completely custom website built at the price of a template-style site. It stays true to Stratosphere's overall custom-tailored approach. Axiom is designed to be both cost-effective and scalable for smaller, newer Insurance Agencies.
"We noticed many agencies settling with basic template websites that were owned by the vendor and not the agency," Stratosphere CEO Casey Preston said. "They had non-original content and weren't visually appealing overall. In most cases, these websites didn't match the solid reputation these agencies have built offline. So we created Axiom, the perfect solution to create a custom website at an affordable price with the ability to scale."
Stratosphere's custom development process has built them a trusted reputation in the insurance industry as the preferred custom web design vendor for over 500 Independent Agencies in addition to national partnerships with major Carriers. Axiom offers the same custom features, including UI/UX design, custom development, mobile responsiveness, optimization for search, quote forms, and social media/blog integration.
CCO Michael Davirro said, "When agencies choose Axiom, they're trusting a very established and capable team to develop a beautiful and efficient website."
Axiom is immediately available to agencies. For more information, contact Stratosphere at (818) 338-6700 or visit their online portfolio.