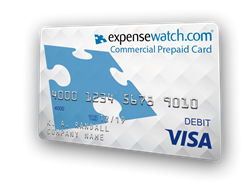 This card provides our customers with a better alternative for making funds available to their employees who need them, while giving administrators front-end control over every dollar spent.
Plymouth Meeting, PA (PRWEB) June 29, 2016
ExpenseWatch, a leader in spend control solutions, today announced the launch of the ExpenseWatch Visa Prepaid Card in partnership with PEX, the leading platform provider of next-generation corporate card and expense management solutions. The ExpenseWatch Card gives companies the ability to provide employees with a way to make purchases as needed, while allowing company administrators the ability to set spending limits and control where cards are used.
"We're excited to partner with PEX to offer this new expense management tool to our customers," said Paul Thedinga, Vice President of Strategic Alliances for ExpenseWatch. "This card provides our customers with a better alternative for making funds available to their employees who need them, while giving administrators front-end control over every dollar spent."
Customers can log in to the ExpenseWatch web application to monitor and manage the prepaid card program. Administrators can direct money to employees as needed without them having to use cash out of their own pocket, get a blank check, or use personal credit cards and wait for reimbursement. Administrators can also set controls on where and when company funds can be spent, and get real-time visibility into overall spending. Employees can now easily purchase the items they need in order to complete their job without using their own funds and the purchases will appear in ExpenseWatch so they can be added to an expense report with ease.
"PEX and ExpenseWatch have a shared vision for bringing time and money-saving solutions to help companies be efficient and smart with their purchasing," said Toffer Grant, CEO of PEX. "Our platform enables the ExpenseWatch Visa Prepaid Card to integrate easily with the expense reporting and purchasing tools already offered by ExpenseWatch."
ExpenseWatch is offering the card program at no additional cost to existing customers. Visit pcard.expensewatch.com to learn more about the card and enroll in the program.
About ExpenseWatch (http://www.ExpenseWatch.com)
ExpenseWatch automates manual, time consuming paper-based processes, for visibility and control over organizational spending, empowering customers to spend with confidence. Modules for expense reporting, purchasing and payable invoices (bills) resolve specific spending issues, or can be combined to provide a comprehensive spend management suite. The company was founded in 2000, released the first version of its spend management service in 2003 and currently manages almost $3 billion in annual spend transactions on behalf of its customers. ExpenseWatch was acquired by Nexonia in February 2016. Nexonia's headquarters is located in Toronto, Ontario, with additional offices in Montreal, Quebec and Philadelphia, Pennsylvania.
About PEX
PEX, a New York-based FinTech company founded in 2006, is the leader in next generation expense management solutions disrupting outdated and inefficient ways companies enable employee spending. The PEX Platform allows businesses to more simply and safely enable employees to spend while maintaining control in ways they never could have before. We combine the ability to establish budgeting controls, via the PEX Admin software interface (desktop and mobile), with the ability for employees to spend via the feature rich PEX Visa® Prepaid Card. PEX APIs are being used by Enterprise clients to enable high transaction volumes for thousands of employees. Our efforts are driving a shift in the way companies manage employee spending and we are rapidly replacing traditional Corporate Cards and reimbursement-based expense approaches. Today, PEX services thousands of businesses nationwide across a variety of industries. For more information, visit http://www.pexcard.com.
The ExpenseWatch Visa Prepaid Card is issued by The Bancorp Bank pursuant to a license from Visa U.S.A. Inc. and may be used everywhere Visa debit cards are accepted. The Bancorp Bank; Member FDIC.