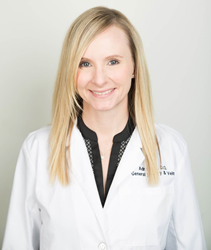 Venous insufficiency is a very common, yet under diagnosed disease.
Greenbelt, MD (PRWEB) June 29, 2016
The Center for Vein Restoration (CVR), the nation's largest, physician-led, vein treatment medical organization, is proud to announce expansion to Wyoming, MI. CVR's newest location has just begun seeing patients and is located at 4124 56th Street SW, Suite 2, Wyoming, MI 49418.
CVR names Dr. Adria Ford as practicing physician at this new location.
"Venous insufficiency is a very common, yet under-diagnosed disease." Dr. Ford continues, "I'm excited to have the privilege of providing southwest Grand Rapids with minimally invasive procedures that will help alleviate the symptoms of their vein disease, improving their quality of life."
The opening of the Wyoming, MI location marks the fourth Center for Vein Restoration location in Michigan.
ABOUT ADRIA FORD, DO
Dr. Ford is a general surgeon who specializes in the treatment of venous disorders and vascular medicine who has accomplished the following:

Medical degree from Michigan State University College of Osteopathic Medicine in 2004. She completed a general surgery internship and residency at Metro Health in Grand Rapids, Michigan.
Member of the American College of Osteopathic Surgeons and the American Osteopathic Association. She is Board Certified through the American Osteopathic Board of Surgery.
Served as a staff general surgeon at Kosciusko Community Hospital in Warsaw, Indiana since 2012, providing inpatient and outpatient care for surgical patients and patients with venous disease. She also previously served as Chief of Surgery with Three Rivers Health in Three Rivers, Michigan.
ABOUT VENOUS INSUFFICIENCY
Venous insufficiency, the cause of varicose veins and spider veins, indiscriminately affects between 30–40 million Americans. Numerous factors including age, weight, prolonged sitting or standing, genetics or a history of DVT (blood clots) can increase the risk of developing this all-­to-­common and often underdiagnosed disorder. Treatment options range from lifestyle changes like exercising or taking regular breaks from prolonged sitting or standing to an array of minimally-­invasive, outpatient procedures that close problem veins, redirecting blood flow to healthier ones.
ABOUT CENTER FOR VEIN RESTORATION
Having performed its first procedure in 2007 under President and CEO Dr. Sanjiv Lakhanpal, Center for Vein Restoration (CVR) has since become a nationally recognized leader in the treatment of varicose and spider veins. Dedicated to relieving leg pain, treating the vascular cause of severe leg wounds, and eliminating unsightly veins, CVR's minimally invasive procedures allow patients to look better, feel better, and live better. With 60 locations and counting, they have assembled the most qualified and experienced team of physicians, researchers, and staff to serve patients across Alabama, Connecticut, Indiana, Maryland, Virginia, Michigan, New Jersey, New York, Pennsylvania, and Washington, DC.
For more information, visit http://www.centerforvein.com. You may also contact Nicole McMillan at nicole(dot)mcmillan(at)centerforvein(dot)com or 240-965-3277.