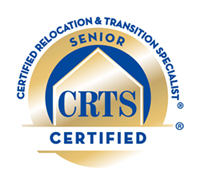 Chicago, IL (PRWEB) June 30, 2016
The CRTS certification has been a mainstay credential in the industry for a decade. Now the program of training service providers is being enhanced with new services for providers and the seniors they help. Providers will now have access to a value-added website that will make some parts of their work easier. Service summaries, planning tools and business management tools can be accessed through the main site. Additionally, seniors will have the ability to locate a service provider in their areas.
CRTS providers have earned a national certification that prepares them to better help seniors transition to smaller and/or more appropriate homes. In order to become certified, candidates must meet eligibility requirements and pass a standardized certification examination. CRTS providers come from many walks of life. They may be experienced as estate sales professionals, professional organizers, healthcare providers, real estate professionals, medical professionals or caregivers.
According to Catherine Serie, CMO of NCBAC, "There is a huge demographic shift going on in this country. Each week over 10,000 Americans turn 62. Many of them will soon face the reality that their large family home is no longer needed or even affordable. Service providers (CRTS certified) live and work all over the country and we're doing our best to help both groups find each other."
The online directory of CRTS trained service providers includes their name and how to contact them. Seniors can also request help through an online form.
Serie adds, "Service providers - those that have earned the CRTSTM certification are very often working as sole proprietors with a virtual team. We wanted to save them time by giving them go-to-market tools that can help them reach their local seniors quickly. With more than 30 services, sometimes it is difficult to explain everything that can be done for a client. So, we've included everything from planning tools, to flyers that they can send to individuals or local organizations."
The online toolkit is open to all CRTS providers with current certifications. They can simply log in and download any tool that they need. Each one is customizable for the service provider's local market.
NCBAC is devoted to promoting professional standards within the senior transition community. It is the only national board that follows the healthcare certification/licensure model to administer standardized certification examinations for dementia care. The purpose of the Board is to provide a benchmark for core competencies and knowledge for those who provide care and education in the field of dementia.
CRTS and NCBAC are trademarks of the National Certification Board for Alzheimer & Aging Care