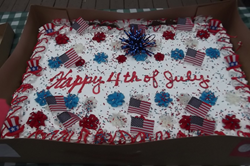 Toms River, NJ (PRWEB) June 29, 2016
The Jersey Shore is the perfect place to enjoy the long weekend! Along with all the parades, fireworks, and outdoor festivals happening in the area, Surf & Stream Campground is adding to the fun with a packed schedule of activities at the RV park.
Beginning on Friday at 8:00 pm, adults are encouraged to relax at Adult Swim Night while the children perch in front of the big screen during Drive-In Movie Night. Young campers can express their creative side by making Independence Day themed crafts on Saturday at 9:00 am before the annual Fourth of July Barbecue kicks off at 6:00 pm. The party continues into the night when DJ Joe arrives with the musical entertainment at 8:00 pm. The pool will also be open late for another Adult Swim Night at 8:00 pm.
Wake up to the smell of fresh sausage and pancakes on Sunday morning at 9:00 am, compliments of Pancake Paula. Before heading to the beach for the afternoon, kids are invited to participate in pony rides around the campground starting at 11:00 am. Families are invited to test their luck at a friendly game of Bingo at 4:00 pm and then break out their best singing voices for Karaoke at 7:00 pm. DJ Joe will return to carry on the celebration with music and dancing.
Visit Surf & Stream Campground's website for changes or updates to the schedule at http://surfnstream.com/.
About Surf and Stream Campground
Surf & Stream Campground is a family-friendly RV park located near all of the most popular beaches at the Jersey Shore. The campground includes a full-size swimming pool, picnic area, activities for all ages, weekend events and more. For more information about Surf & Stream Campground, visit their website at http://www.surfnstream.com or call 732.349.8919.