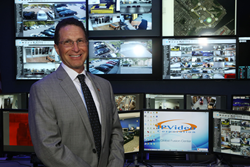 David Antar and his team at IPVideo provide full-spectrum knowledge on the security industry's needs.
(PRWEB) June 29, 2016
IPVideo Corporation, manufacturer of IP-based video surveillance and command center solutions, today announced its role as a founding technology sponsor of the Robolliance Program. Robolliance, and its associated online forum (http://www.robolliance.com), is a gateway for technology partners and industry experts in robotics, surveillance and security, to advance the understanding and awareness of the growing opportunity for Autonomous Robotics within the security marketplace. As an innovator in IP-based video-centric security technologies, IPVideo Corporation sees clear benefits to the future integration of unmanned ground vehicles (UGVs), equipped with cameras and other sensors, with surveillance and physical security management platforms, such as its own SentryVMS, Mosaic and C3fusion solutions.
A 2015 report from The International Federation of Robotics (IFR) indicates sales of industrial robots increased by 29% in 2014, more than double the rate of the previous year. While the main drivers of growth have, until now, been within the manufacturing sector, applications for their use continue to expand. The Robolliance forum is an opportunity for thought leaders, like IPVideo Corporation's President, David Antar, to contribute to public education and insights on these trends.
As this quarter's "Sponsor Spotlight" featured on Robolliance.com, Mr. Antar explains, "In today's world, in which security is constantly top-of-mind, the marriage of physical security with robotic technologies holds tremendous potential to improve public safety on many levels, but to be truly successful, it is imperative that the public understand and embrace this new paradigm rather than fear it. As a sponsor of the Robolliance and member of the security industry, IPVideo Corporation is proud to be part of a program that we hope will become the premier online resource and thought leadership forum for ideas and information related to the beneficial role robotics will play in all of our lives." The full interview can be read here: http://www.robolliance.com/en/Sponsors/SponsorSpotlight.aspx
"David Antar and his team at IPVideo provide full-spectrum knowledge on the security industry's needs", said Alice DiSanto, Director of Marketing for Sharp Robotics Business Development. "Within Robolliance, they (IPVideo) hold the unique distinction of providing insights into the three areas of technology, sales channel and industry expertise. Visitors to the Robolliance site can use these insights to inform their high-tech, security and surveillance decisions when looking to help safeguard infrastructure, assets and people."
About IPVideo Corporation
An industry pioneer since its introduction of one of the first network-based surveillance recording solutions in 1996, IPVideo Corporation is now at the forefront of developing unique, innovative solutions that harness the power of IP video technology. Today, the Company's systems are trusted by Fortune 500 companies, government agencies and municipalities, utilities, healthcare facilities, school districts and leading universities to mitigate risk while protecting people and property. A commitment to an open-standards philosophy and delivering best-in-class performance and value underlies all offerings―from physical security solutions that bridge to the Internet of Things, to purpose-built HD audio/video recording solutions for education, law enforcement, healthcare, and beyond. The company's worldwide client base is served by a network of certified distributors, dealers and system integrators, who benefit from ongoing corporate support and training. IPVideo Corporation is headquartered in Bay Shore, NY. For more information, visit http://www.ipvideocorp.com.