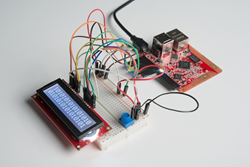 We are constantly challenging ourselves with developing faster paths to connecting hardware and software,
Boulder, CO (PRWEB) June 29, 2016
SparkFun® Electronics, a provider of electronics parts and educational tutorials, and Bocoup®, provider of open-source technology consulting and training, today announced the release of the Johnny Five Inventors Kit (J5IK), the first kit available for developing projects using the Tessel 2 and the Johnny-Five Robotics and IoT Platform.
The J5IK empowers users to build internet-connected, JavaScript-powered hardware projects by marrying the ubiquitous language with the Tessel 2 single-board computer and several components to get users started immediately. This kit:
-Provides a powerful foundation for IoT projects
-Includes everything needed to complete 14 circuits
-Does not require previous programming experience or soldering
-Connects users with a thriving community and exemplary documentation
-Supports beginner and more advanced projects
Although the applications are limitless, the kit allows users to control and read external sensors and displays, control motors, and use and learn JavaScript.
"This has been a missing link in the Javascript community and represents a new era of usability for single-board computers," said Boaz Sender, CEO of Bocoup, "SparkFun is the ideal hardware partner to co-develop and build the kits--they have the common mission of making programming and electronics more accessible."
One of the primary goals of this kit is to support software developers in going from code on the screen to making things happen in real life; conversely, the kit supports hardware developers with tools that make it easier to build web-connected projects. To serve all users, the online Experiment Guide for the J5IK contains step by step instructions of how to connect each circuit with the included parts. Full example code is provided and explained and includes troubleshooting tips if something goes wrong.
"We are constantly challenging ourselves with developing faster paths to connecting hardware and software," said Nathan Seidle, Founder and CEO of SparkFun, "By marrying our efforts with Bocoup, we were able to build a powerful solution that supports software and hardware developers. As more people engage in development for IoT, the seamless connection between programming and hardware is absolutely critical."
Kit components include, but are not limited to motor drivers, resistors, LEDs, soil-moisture sensor, magnetic door switch set, shadow chassis motor, buttons, breadboard (white adhesive), USB microB cable, trimmable potentiometer, miniature photocell, and a mini power switch.
To learn more about the Johnny-Five Inventor's Kit go to http://www.sparkfun.com/j5ik.
About SparkFun Electronics (http://www.sparkfun.com)
Founded in 2003, SparkFun shares its passion by providing parts, knowledge, and innovation for those looking to explore the world of embedded electronics. It helps anyone discover their inner inventor and enables individuals to create their own electronics projects. SparkFun currently offers more than 2,100 products, ranging from simple components, like capacitors and resistors, to GPS units, Bluetooth modules, and comprehensive inventor kits; additionally, SparkFun has developed nearly 400 tutorials to inspire and support others in their exploration of electronics.
About Bocoup (http://www.bocoup.com)
Since 2009, our team has been creating, championing, and continually improving open tools and workflows used around the world. We foster environments of inclusivity and individuality as we dedicate ourselves to solving global market challenges in the public sphere. We bring diverse experience and leadership to all of our projects so developers and users can accomplish more.
About Johnny Five (johnny-five.io)
Johnny-Five is an Open Source Robotics and IoT platform based on the IO-Plugin protocol. Released by Bocoup in 2012, Johnny-Five is maintained by a community of passionate software developers and hardware engineers. Over 75 developers have made contributions towards building a robust, extensible, and composable ecosystem.