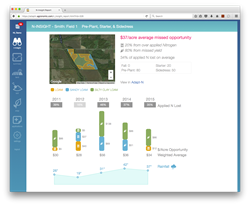 N-Insight is an important Conversation Starter for precision agriculture, crop yield improvement opportunities, and sustainability.
Sanford, NC (PRWEB) June 29, 2016
Agronomic Technology Corp today announced a free trial version of its newly launched N-Insight nitrogen diagnostic solution. N-Insight helps growers to understand the nitrogen loss dynamics on their farm. With N-Insight, the company is introducing a "conversation starter" between growers and agronomists about how to adapt field practices to in-season weather conditions, how soil textures impact nitrogen loss, and how broad changes in management practice may improve yield and environmental performance.
Introduction to N-Insight
N-Insight is a web-based, interactive tool that provides immediate, field-specific insight into the financial and environmental impact of nitrogen management practices. This includes adaptive approaches, 4R's nitrogen practices, and the potential for variable rate application.
The power of N-Insight lies in its ease of use and accuracy. It takes about one minute to run a field report and requires no special training or software. Behind its simple user interface, however, is a dozen years of proven agronomic modeling and a set of complex simulations run on demand for each field. Using high resolution weather, soil information, and field management practice information provided by the grower, N-Insight provides a 5-year view of nitrogen loss, potential yield loss and excess input cost on a per-season and per-soil texture basis. Users who upgrade to the full solution also have the option of instantly pushing their fields into Adapt-N to create in-season nitrogen recommendations and alerts, and tools to evaluate the impact of stabilizers, manure, irrigation, and variable rate technologies. Adapt-N is provided through select Agriculture Retailers and Precision Agriculture technology companies.
Those interested in a trial of N-Insight or who want to learn more about the solution should go to http://www.N-Insight.com. The company is offering 5 free field reports to the first 1,000 qualified users during a limited period. N-Insight is currently provided for corn production acres, though the company plans to expand the solution to other crops. The free trial version offers quantified nitrogen loss, while the upgraded N-Insight Enterprise version -- which is targeted to agriculture retailers, agronomists, and other technology providers -- also provides economic impact reports, customization of defaults by geography, company branding, integrations with other systems, and a multi-user staff interface.
Agronomic Technology Corp continues to enhance N-Insight and will bundle the offering with those of other agriculture industry leaders. Conversations are underway with farm management systems, weather providers, soil testing services, farmland valuation and rental companies, crop insurers, imagery and sensor providers, and other agriculture-focused entities.
Additional questions can be directed to grow(at)n-insight(dot)com or by calling 866-208-3276.
About Agronomic Technology Corp
Agronomic Technology Corp provides a recommendation platform to help tackle key challenges in agriculture. The company leverages the power of cloud technology, proven science and data to deliver large-scale, field-specific solutions that break the trade off between financial and environmental performance. The company is best known for Adapt-N, the leading independent nitrogen management solution.