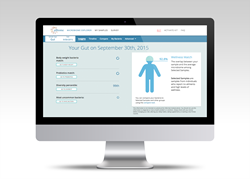 San Francisco, CA (PRWEB) June 29, 2016
Microbial genomics leader uBiome has released the uBiome Explorer, an new version of its online tools, which include scores based on characteristics of the microbiome (such as diversity and probiotic bacteria) and recommendations for food and wellness experiments that citizen scientists can perform.
As in previous versions, the new uBiome Explorer is a citizen science tool for conducting personal experiments, and is not intended to be used in making health-related decisions. Anyone with a medical condition is advised to consult with a healthcare professional.
Citizen scientists begin by ordering an easy-to-use home sample kit from uBiome. Users simply swab a piece of toilet paper. This sample is then mailed to uBiome's laboratory, where it is put through a state-of-the-art DNA testing process which identifies bacteria at the phylum, family, order, class, and genus level. The uBiome Explorer returns this data to citizen scientists in an easy-to-understand format with graphs, interactive timelines, and comparison tools.
Insights Dashboard Highlights Include:

Wellness Match - Overall summary of how similar an individual's results are to a select sample of users.
Body Weight and Bacteria - Visual breakdown of bacteroidetes to firmicutes ratios.
Probiotics - A snapshot of the levels of two important genera (Bifidobacterium and Lactobacillus) frequently present in probiotic supplements.
Microbiome Diversity - An overall score of the individual's microbiome diversity in comparison to all other uBiome samples, the largest microbiome database in the world.
Diving deeper into the results, the re-imagined uBiome Explorer's Timeline and Compare tools also make it easy to track microbiome changes over time, revealing how lifestyle changes (such as starting a new diet, taking new probiotics, or traveling abroad) may have modified the microbiome.
uBiome was launched in 2012 by scientists and technologists educated at Stanford and UCSF after a crowdfunding campaign raised over $350,000 from citizen scientists, over triple its initial goal. The company is now funded by Andreessen Horowitz, Y Combinator, and other leading investors.
uBiome's mission is to use big data to understand the human microbiome by giving users the power to learn about their bodies, perform experiments, and see how current research studies apply to them.
Contact:
Julie Taylor
julie(at)ubiome(dot)com
Ph: +1 (415) 212-9214