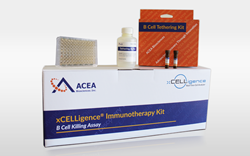 The xCELLigence® instruments provide a quantitative kinetic assessment of immune cell-mediated killing of both solid and liquid tumor cells under label-free conditions.
San Diego, CA (PRWEB) June 29, 2016
ACEA Biosciences, a pioneer in the development of high performance cell analysis platforms including the xCELLigence® Real-Time Cell Analyzer (RTCA) instruments and NovoCyte® flow cytometers, is introducing an immunotherapy kit for in vitro monitoring and quantification of effector-mediated B cell killing. This kit enables continuous real-time monitoring of B cell lymphomas as they are exposed to diverse immunotherapy approaches including NK cells, T cells, CARTs, oncolytic virus, checkpoint inhibitors, bispecific antibodies, BiTEs, etc. The major distinguishing features of this technology include enhanced sensitivity, the preclusion of labels, simple workflow and, importantly, continuous kinetic measurement of B cell cytolysis. This B cell-specific kit is the first in a series of xCELLigence immunotherapy-focused kits that ACEA will be launching in the coming months.
The utility of impedance-based xCELLigence Real-Time Cell Analysis (RTCA) for probing the efficacy of immunotherapies targeting solid/adherent cancers has been firmly established over the past decade. However, ~10% of all cancers are liquid in nature, are non-adherent and therefore cannot be directly monitored by the standard impedance assay. The B Cell Killing Assay Kit contains reagents which enable B cells to be selectively immobilized in the well bottoms of ACEA's electronic microtiter plates. Addition of effector cells (NK, T, CART) on top of immobilized B cells results in cytolysis of target cells in an effector concentration-dependent manner. The continuous acquisition of impedance data for each well of the electronic plate allows the generation of real-time killing curves for multiple conditions simultaneously.
Dr. Yama Abassi, Vice President of ACEA Biosciences, noted that "The xCELLigence instruments provide a quantitative kinetic assessment of immune cell-mediated killing of both solid and liquid tumor cells under label-free conditions." He further stated that "This functional assay is currently being used for evaluating/optimizing combination therapies, and for the development of adoptive cell therapies and engineered antibodies. Beyond the arena of R&D, we envision xCELLigence being utilized as a quality control assay for manufactured immuno-oncology therapies."
About xCELLigence
ACEA's xCELLigence Real Time Cell Analysis (RTCA) instruments utilize gold microelectrodes embedded in the bottom of microtiter wells to non-invasively monitor the status of adherent cells using the principle of cellular impedance. In short, cells act as insulators – impeding the flow of an alternating microampere electric current between electrodes. This impedance signal is measured automatically, at an interval defined by the user (e.g. every 10 seconds, once per hour, etc.), and provides an extremely sensitive readout of cell number, cell size/shape, and cell-substrate attachment strength.
About ACEA Biosciences
Founded in 2002, ACEA Biosciences is a pioneer in the development and commercialization of high performance, cutting edge cell analysis platforms for life science research. ACEA's xCELLigence impedance-based, label-free, real-time cell analysis instruments and NovoCyte flow cytometer are used in pre-clinical drug discovery and development, toxicology, safety pharmacology, and basic academic research. More than 2,000 instruments have been placed globally, leading to >800 peer reviewed publications.
For more information visit http://www.aceabio.com.