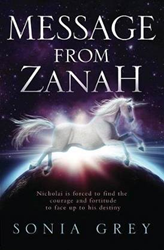 "The contrasting heartache and romance pulls the reader though the pages to where it ultimately takes them on a journey where, like the young hero Nicholai, they can also tap in to their own powers if only they too could believe." - Amazon Reviewer
(PRWEB) July 12, 2016
Evil is created from the negative emotions of hatred, fear, and anger. Evil is a real energy that manifests, feeds, and sustains dark forces.
In the fantasy novel "Message from Zanah", Satan's rebirth is set in motion with the aid of the Devil's advocates ,the evil Baron de Henchman and Lord Ainsbury, who bargain their souls to keep eternal youth. But then someone arrives to threaten everything.
Sixteen-year-old Nicholai experiences another reality when he travels out of body to the astral plane. The vilest evil attacks him and takes everything from him of the life he knows. Then a beautiful girl helps him.
Experiencing a mind-shattering pledge he made in another life, as well as a pact made three generations ago, Nicholai is drawn deeply into a paranormal world filled with danger and uncertainty. Needing unwavering faith to unlock the powers before him, he is armed with three mystical aids: The Empathic Sash, A Cloak to shield his aura, and The Sword of Truth.
But he learns that the most powerful weapon of all is within himself because "love is the key." As Lucifer's ascension draws near, Nicholai must find the courage to face up to his destiny. The terrifying conflict ahead can not only save his true love, but the future of humankind as well.
The book's message according to the author: "I believe that as children are our future. I hope through my stories to awaken in them, slowly, and through each of my books to the fact that they possess within them this great power. Through right thinking, they can unlock for themselves the creative powers of our loving universe. Finally, I hope that one day as enough of our future generations come to know the truth of who they really are and to the great power they hold within, that together the power of their collective minds right thinking, can and will bring peace and harmony on Earth as it is in Heaven."
Watch the new video book trailer at: https://youtu.be/piNuxsKnI-4
Amazon.com 5-Star Reviewer: "I bought this book as a present for a friend's 12-year-old daughter for Christmas, but as I began to peruse the pages, I found myself fascinated firstly by the context of the author's preface and then by following pages, and so I decided to read it myself first. Having always been interested in anything paranormal, I found the characters and their relationships absorbing and the context of the message that flows through the story that, love empowers, thought provoking. A chilling story of evil that is sometimes quite dark. The contrasting heartache and romance pulls the reader though the pages to where it ultimately takes them on a journey where, like the young hero Nicholai, they can also tap in to their own powers if only they too could believe. Can't wait for the next one."
About the Author: Sonia Grey used her beliefs and experiences of the paranormal realms to create this story aimed at readers age 12 and older, and for those who like a spiritual or fantasy fiction read. "My stories always carry within them certain truths and a real message that Nicholai, the hero of this first of the trilogies, discovers." Born in London, the author grew up and lived most of her life in Hastings. Now residing in Eastbourne with her husband and family, her interest in the paranormal began at an early age. She spent time with her father, George Gilbert Bonner, one of Britain's top researchers in the field of EVP, Electronic Voice Phenomenon, compiling information for his book, but realized after her own paranormal experiences that she was compelled write her own.
MESSAGE FROM ZANAH (ISBN: 978-1-49036-354-7) is now available for $14 and can be ordered through: Amazon.com or Barnesandnoble.com and other retailers.