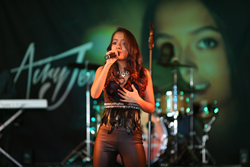 I'm glad to be a part of this special night, doing what I love to do, all for a great cause. -Airy Jeanine-
(PRWEB) June 29, 2016
Airy Jeanine will be performing at the special benefit at the Microsoft Flagship Store at 677 5th Avenue in New York City as part of the Sound Affects Music Beats Cancer event that will be hosted by Dancer and You Tube icon Dana Alexa on Wednesday, June 29th, 2016.
In the spotlight, the Kmina Entertainment singer-songwriter-actress' performance will include her latest hit song, "Do You", at the free event scheduled from 7:00 PM to 9:30 PM, sponsored by Guitar Center, and WTRMLN WTR.
Sound Affects is an organization founded by Dr. Mona Jhaveri, with a concept to unite music and medicine to transform how the war on cancer is fought and financed. The collaboration with Microsoft in creating the Music Beats Cancer showcase of Independent artists brought about a "Crowdfunding Challenge" to the artists involved.
As a top fundraiser for the Sound Affects challenge, AIRY JEANINE secured the top spot on the exclusive event that will be hosted by professional dancer and YouTube icon, Dana Alexa, of the duo "Dana & Matt."
Dana & Matt will create a choreographed dance video to the song "Do You", and the Video will be posted on Dana & Matt's You Tube channels, which has a subscriber base of over 6 million!
Consumers can get all versions of her songs, and merchandise on her website. Her music is also readily available from all digital retailers, including iTunes, Amazon, Google Play, etc.
She is making an impact with several top rankings on multiple music charts that include: Billboard Top 40 Indicator, FMQB, National Radio Hits, New Music Weekly, and Independent Music Network.
The rising star has already received Awards and nominations, and continues to build up accolades in her young career. Her most recent endeavor is her published Children's book "This Is Me".
Airy Jeanine continues to gain fans all over and hope to get their help in fighting the war on cancer, by joining with her and the organization in supporting the worthwhile cause. Invited guests, press, and shoppers in the Microsoft superstore are in for a treat. A "meet and greet", a raffle drawing, are all part of an evening of entertainment with a purpose. Music Beats Cancer.
About Kmina Entertainment
Based in Franklin Lakes, NJ, the company is a start-up entertainment company that produces, promotes, and markets music, video and related multimedia projects. It is creating a solid foundation for its artist to grow in a focused long-term environment.