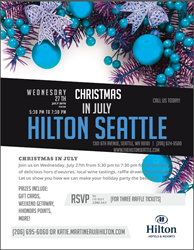 Seattle, Wash. (PRWEB) July 01, 2016
Hilton Seattle invites one and all to celebrate Christmas in July! Join the fun on Wednesday, July 27th from 5:30pm to 7:30pm for an evening of delicious hors d'oeuvres, local wine tastings, a raffle drawing for prizes and socializing. Prizes for the raffle drawing include: gift cards, a weekend getaway, HHonors Points, upgrade to Gold Status and much more!
The hotel is hosting Christmas in July to launch a special booking incentive for companies and organizations looking to book their 2016 holiday party in the hotel's beautiful event space. Parties with 25-151+ guests looking to book will be able to choose up to three incentives, including: complimentary holiday themed linens, 3% rebate on master bill, double HHonors Points, complimentary gift certificate for a one night stay for two guests, or one complimentary hors d'oeuvres for one hour.
For more information and to RSVP, please contact Catering Manager, Katie Martineau at (205) 695-6060 or Katie.martineau(at)hilton(dot)com. RSVP by Friday, July 22nd, and receive three raffle tickets towards the prize drawing.
Hilton Seattle offers both business and leisure travelers a chance to enjoy newly renovated rooms and a central hotel location in the heart of downtown Seattle. Guest floors begin on the 14th floor- ensuring guests receive beautiful views of the Seattle skyline and Elliott Bay. Room options include king and double beds, one-bedroom suites, executive rooms and accessible rooms, available upon request. Guests have the chance of upgrading to the unique top-floor suite with double the space, a connecting parlor and views of the Space Needle. Amenities include a business center, 24-hour fitness center, concierge, room service, swimming pool, meeting rooms, executive lounge, on-site dining and valet parking.
Hilton Seattle offers 6,000 square feet of event space, perfect for meetings, events and weddings, with an experienced team behind the scenes. The Soundview Room, on the 29th floor, offers stunning panoramic views of the city. On-site dining includes redtrees restaurant and bar, where guests can savor American cuisine with Pacific Northwest flair. Located just three blocks from light rail and connected via a concourse to the Washington State Convention Center, Hilton Seattle offers convenient access to all of downtown Seattle. Near popular attractions, including Pike Place Market, various premier dining and shopping options as well as entertainment, the Hilton Seattle welcomes all to enjoy the best city has to offer.
The Hilton Seattle hotel is managed by 365 Management Company.