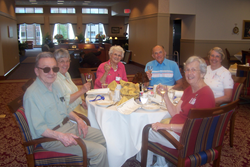 There is an energy here that you don't feel when you go somewhere else. Our residents run the clubs and committees here, which gives them ownership of what they do and how they do it.
Naperville, IL (PRWEB) June 29, 2016
Monarch Landing is on the cusp of a momentous occasion as next month marks the retirement community's 10th anniversary. While Monarch Landing has become a home to hundreds of wonderful residents, it is also a home-away-from home for many of its staff. Finding an environment that is vibrant, caring, meaningful and supportive, many staff members through all departments have remained at Monarch Landing since it first opened. Now, on Monarch Landing's tenth anniversary, we are proud to share some of the original staff's favorite observations and memories.
DINING SERVICES
Julie Roberts served up the first meal at Monarch Landing ten years ago. She began her career at Monarch Landing's welcome center in 2006, as restaurant manager. The very next year she was promoted to director of dining services.
Julie recalled that on the day that Monarch Landing opened, there were six residents in a dining room with a capacity of more than 200. Acknowledging that the dining staff greatly outnumbered the residents being served that first night, Julie said, "We wanted so badly to make a first good impression, but may have intimidated a few with the director, restaurant manager, service manager, wait staff and other kitchen personnel asking after each course, how everything was!" Ten years later, the staff is still eager to please and constantly working to provide the best dining experience possible.
Julie said, "I always expected to enjoy what I do, but have been surprised by the relationships and true community-feel we have. The comfort, care and compassion at all levels is truly remarkable." She added, "We are a strong, resilient and vibrant community that is always evolving, growing and changing."
TECHNOLOGY
Jason Hedman started at Monarch Landing as the IT site manager, working a desk in an unfinished office building on a corner of the property. His role, he recalled, "was to support the early staff on the property as well as to assist with the rollout and installation of the IT equipment as the construction of the buildings was being completed." Jason now serves as the regional director of I.T. for five Life Plan communities managed by Life Care Service, planning for and maintaining all the infrastructure and IT systems. Jason recalled move-in day, saying "it was neat to see everyone fit into the roles that they were hired for, and to finally see all of the pieces of the puzzle fit together. "
With the completion of The Springs at Monarch Landing, Jason said that the community "surpasses my expectations." He added, 'Having the opportunity to guide and develop the IT infrastructure over the past five years or so vs. just supporting it has been extremely fulfilling."
Jason concluded, "...the people and culture here are as caring and vibrant as that very first day the community opened."
MARKETING
Michele Hilger began working for Monarch Landing in 2004, operating as sales event associate in the off-site welcome center. "I planned all prospect events and the ground breaking event, and co-planned the grand opening event for Monarch Landing," she said.
Recalling the day that Monarch Landing opened, Michele said, "I remember the excitement and the buzz in the air of the first residents arriving with their movers, and the staff making sure that everything was perfect."
Michele has moved through the ranks, serving as marketing coordinator, sales associate/move-in coordinator and now, sale counselor/community outreach coordinator. "My favorite memories are of residents coming to the sales office and thanking us for helping them with the decision to move. There is nothing more rewarding than to see someone who was hesitant about a move, enjoying his or her new life at Monarch Landing.
While there have been changes in ownership and management since it first opened, what has remained constant at Monarch Landing is "the quality of care that is provided to the residents," said Michele. "Monarch Landing has gotten better over time. We still provide the same service, but have gotten better at it."
LIFESTYLES
Sherry DeFillippo, lifestyle manager, started working for Monarch Landing two months before the community opened. Stationed at the temporary welcome center, Sherry recalled planning events for the "pioneer" residents, so that everyone would get to meet their new neighbors.
On the day that Monarch Landing opened, Sherry recalled the first residents, Jan and Bob Garland, moving in. "It was so much fun. We all welcomed them into the lobby. It's amazing that they moved into their apartment, sight-unseen," she said.
Sherry said that working with a senior population was new to her ten years ago. 'I started thinking...if my mother were living here, how would I like an employee to talk to her? How would I like an employee to treat her? That made it easy for me and that is how I approach each day and each resident here."
Describing Monarch Landing, Sherry said, "There is an energy here that you don't feel when you go somewhere else. Our residents run the clubs and committees here, which gives them ownership of what they do and how they do it. They are engaged and happy to be part of this great community that they've built. Everyone really looks out for the other person. It's really a lovely thing to watch. "
Monarch Landing is a Life Plan Community located on a scenic campus in Naperville, Illinois-named "one of America's best places to live and retire" by Modern Maturity, and "the best city for early retirement" by Kiplinger. Monarch Landing offers independent living, promoting a vibrant life style for active seniors. The Springs at Monarch Landing offers assisted living memory support, rehabilitation and skilled nursing services, thus providing complete continuing care for seniors. Monarch Landing is owned by Senior Care Development and managed by Life Care Services. For additional information visit http://www.WelcomeToMonarchLanding.com or http://www.TheSpringsatMonarchLanding.com.