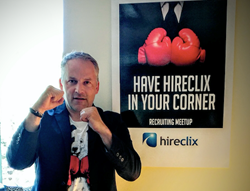 It is the single most difficult time to be a consumer of recruiting technology, recruitment advertising and other talent acquisition solutions swarming the market.
Gloucester, MA (PRWEB) June 30, 2016
HireClix, a boutique recruitment marketing agency, announces the expansion of its services to include a Strategic Talent Acquisition Consulting Group. HireClix will further develop the marketing agency's service offerings by helping clients gain a deeper understandings around their recruitment marketing systems, processes, and operations. Leading this new service practice will be talent acquisition innovator Martin Burns. Martin comes with a wealth of experience from within the recruiting industry, having spent the past two decades in recruitment leadership roles, including his most recent experience as PwC's recruitment technology leader. He has designed and scaled talent acquisition departments at rapidly growing global organizations and has also led the architecture of global recruitment systems and strategies to modernize recruitment efforts within complex organizations.
"By adding one of the most innovative talent acquisition practitioners to our team, HireClix becomes a more strategic partner to every human resources executive challenged to modernize and transform their organization," said Neil Costa, Founder & CEO, HireClix. "Martin provides a great blend of creative thinking, long-term vision along with the practical know-how needed to navigate the single most difficult time to be a consumer of recruiting technology, recruitment advertising and other talent acquisition solutions that are swarming the market."
The Strategic Consulting Services will include...

Talent Acquisition Architecture & Design
Recruiting Systems Review and Selection
Recruiting Process Transformation
Applicant Tracking System Audit & Optimization
Recruitment Marketing Audit & Assessment
Customized Strategic Services
"There is a huge challenge ahead of any CHRO and their talent acquisition team. Given our expertise and independent perspective, I believe HireClix can act as a guide, a Sherpa in a way, as they navigate the challenges they face when making complex decisions to secure the talent needed to propel their business forward," commented Martin Burns, Strategic Consulting Lead, HireClix.
Martin will continue to be available as an industry speaker and thought leader, available to speak, comment and blog on recruiting technology, social recruiting, recruitment process design and recruitment advertising. He has most recently spoken at industry events such as HR Tech, ERE, and SRSC.
If you are interested in learning more about HireClix Strategic Talent Acquisition Consulting services, please email sherpa@hireclix.com.
About HireClix
HireClix is a fast-growing boutique recruitment marketing agency that helps clients - including
Fortune 500 HR departments and national staffing firms – apply the power of on-demand digital marketing and
strategic advisory services to their recruiting processes. HireClix helps clients from a wide variety of industries
sort through the sometimes overwhelming number of solutions, technologies and recruitment marketing options in the marketplace and develop the metrics they need to make good business decisions. HireClix saves HR executives and talent acquisition professionals time and money by building new recruitment marketing strategies, developing their employment brand and reducing overall cost-per-hire. Learn more at http://www.hireclix.com.