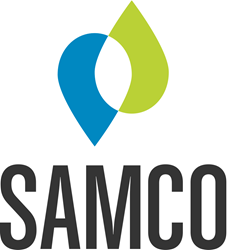 (PRWEB) June 30, 2016
SAMCO Technologies, a Buffalo-based designer and manufacturer of custom water, wastewater, and other process equipment systems for the power, refinery, petrochemical, chemical, municipal, oil and gas, mining, and food and beverage industries, would like to announce the addition of Ramkumar Karlapudi as Global Process and Technology Head, and Mark Vineyard as Solutions Applications Specialist.
Karlapudi, who was previously at Pall Corporation and Aquatech, has over 20 years' experience in all areas of the water treatment industry and has wide-ranging knowledge of raw water pretreatment, ion exchange, demineralization, membrane-based systems, and thermal technologies, including extensive background with brackish water and seawater reverse osmosis. He has helped launch and manage an offshore design engineering center in addition to inventing new water treatment processes, including an innovative method for producing high-pressure steam from produced water. With a Bachelor's degree in mechanical engineering from Osmania University and extensive industry knowledge, Karlapudi is known for his creative, strategic, and focused approach to water treatment solutions.
Vineyard, an environmental engineer-chemist specializing in water, waste, and wastewater treatment plant treatability studies and systems, is an expert in industrial and municipal aerobic and anaerobic wastewater treatment plants, including sludge treatment, effluent disinfection, potable water purification, soil and site remediation, groundwater remediation, and the handling and applications of specialty chemicals. He also has significant experience in EPA and state regulations for waste, air quality, and reporting under RCRA, Title V, and NPDES. He earned his Bachelor's and Master's of Science in Chemistry from the University of Houston. Widely published in his field and the holder of several patents, Vineyard's specialties include processing waste streams comprising spent caustics, tank and process blowdowns, basic sediment and water, food and beverage clean-in-place, process water, cooling water circuits, vapor thermal oxidation systems, and hazardous wastes treatment and disposal.