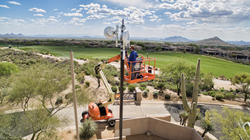 "Our goals for this project were security, ease of deployment, throughput, and manageability, and BridgeWave helped us achieve all of those. Once the site was prepped, installation, provisioning, and network optimization were completed in record time."
San Diego, CA (PRWEB) June 30, 2016
BridgeWave Communications, a market leader in wireless backhaul systems, today announced that Earthprint Technologies, a Native/Woman-owned wireless solutions provider to remote and tribal communities, has deployed BridgeWave 80GHz systems to form a highly available and secure gigabit backhaul ring supporting the exclusive Desert Mountain Golf & Recreational community in Scottsdale, Arizona. The BridgeWave FL4G-UHA systems provide voice and high definition video connectivity between the property's security headquarters and multiple entrance/exit gates. Desert Mountain, which is situated on 8,000 private acres in the high Sonoran desert, is a 1500 home community ranked among the top 10 private golf and recreational developments in the nation.
Prior to installation of the BridgeWave systems, connectivity was provided by a Wi-Fi network consisting of hundreds of radios but lacking needed capacity and throughput. Now, the network utilizes the BridgeWave ring to ensure network availability and to transport the Wi-Fi traffic.
"Our goals were security, ease of deployment, throughput, and manageability, and BridgeWave helped us achieve all of those," said Forest James, CEO of Earthprint Technologies. "The BridgeWave radios provide all the capacity we need with AES encryption, so throughput and security are guaranteed. Once the site was prepped, installation, provisioning, and network optimization activities were completed in record time. We encountered challenges while our crews were on-site that required the expertise of the BridgeWave engineering team and, within hours, BridgeWave had dedicated engineering resources working throughout the week to help us achieve the best possible network and overcome the challenges."
The BridgeWave FL4G-UHA is a member of the company's market-leading FL4G series of systems that deliver up to 3.2Gbps capacity per radio and will support up to 10Gbps per radio in the near future. BridgeWave FL4G systems are designed to alleviate the strain on backhaul connections by combining advanced radio and modem capabilities with carrier-grade Ethernet features. These systems incorporate BridgeWave's AdaptRate™ technology to increase link budget, distance, and reliability. With low power consumption and PoE capability, FL4G systems provide all of the above in environmentally friendly, compact, and lightweight zero-footprint enclosures.
"BridgeWave is proud to have worked with Earthprint Technologies to provide secure, fiber-equivalent connectivity to the Desert Mountain community," said Pamela Valentine, vice president of marketing, BridgeWave Communications. "Our expertise in providing wireless solutions, coupled with our innovative technology, enables solutions providers like Earthprint to quickly scale wireless capacity affordably and quickly for customers everywhere."
About Earthprint Technologies
Earthprint Technologies is one of a consortium of 100% native-owned companies serving Native American and First Nations communities. The company designs and deploys carrier-grade, high performance licensed microwave, millimeter-wave, Wi-Fi and Distributed Antenna System (DAS) networks for remote and tribal communities. Earthprint's sister company, EnerTribe, Inc., has a proven track record funding large broadband projects in Indian Country through government subsidies and grant/loan programs. These two companies were "built by Indian Country…for Indian Country" to assist in economic development and broadband related projects.
About BridgeWave
BridgeWave Communications provides high-capacity microwave and millimeter wave backhaul and wireless connectivity solutions to operators, carriers, service providers, governments, and private enterprises. With over 30,000 systems deployed in more than 60 countries, the company's innovative solutions have been entrusted by customers to enable highly reliable and secure, high-capacity, gigabit connectivity while reducing operating costs relative to fiber. Founded in 1999, BridgeWave is headquartered in San Diego, California. For more information, visit http://www.bridgewave.com.