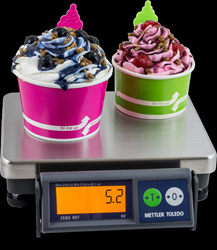 The Ariva-S-Mini delivers dependable and robust performance within a very small footprint.
(PRWEB) June 30, 2016
The Ariva-S-Mini delivers dependable and robust performance with a weight platform that measures only 6.3 in. X 7.875 in. The scale connects to most point-of-sale systems for checkout applications, and to personal computers for many other applications that require weight data. The scale is ideal for environments where high-resolution weight is required, such as classic checkouts, self-checkouts, in restaurants, frozen yogurt stores, coffee shops, bulk foods, farmers' markets, and other specialty sale-by-weight establishments, and as a checkweigher at the point-of-sale.
Robust to withstand everyday use
Thanks to single or dual-interval weighing technology, the Ariva-S-Mini can handle a maximum load of 15 lb (6 kg), while also offering an extremely sensitive weight resolution of up to 0.002 lb (1 g) for weighing lightweight, high-value items. As an extra benefit for the bottom line and the environment, the scale is characterized by low power consumption: electricity usage has been reduced to less than half of that consumed by standard POS scales. Robust materials such as stainless steel and aluminum are effective in safeguarding the scale against corrosion. The housing has been specially designed to be impermeable to liquids and dirt, thus protecting the weighing mechanism.
Exceptional transaction speed
The Ariva-S-Mini delivers what retailers want: complete accuracy along with reliable and durable performance. It provides fast weighing and exceptional transaction speed to reduce customer wait times. This is critical around the cash register, improving customer service, and increasing efficiency for sales personnel.
Learn more about the Ariva-S-Mini at http://www.mt.com/retail-ariva
METTLER TOLEDO
METTLER TOLEDO is a leading international manufacturer of precision measuring instruments. The company is the world's largest manufacturer and supplier of weighing systems for laboratories, industry and food retail.
METTLER TOLEDO is one of the three leading suppliers of various complementary measuring technologies and a leading supplier of automated pharmaceutical research and ingredient development systems. Moreover, the company is the world's biggest manufacturer and supplier of metal recognition systems for the production and packaging industry. Further information on METTLER TOLEDO Retail can be found at http://www.mt.com/retail.
Contact Information:
Ann Guess
ann(dot)guess(at)mt(dot)com
Mettler Toledo
(614) 307-4240