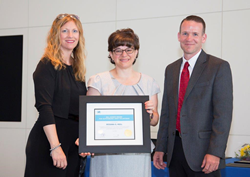 Rosana has been an AWIM volunteer since 2002 and a member of the AWIM Leadership Committee since 2011.
WARRENALE, Pa. (PRWEB) June 29, 2016
SAE International announces that Rosana Hull, Senior Engineer, General Motors, is the winner of the Bill Agnew Award for Outstanding AWIM Volunteers. She received the award during the annual GM Volunteer Appreciation Breakfast at the GM Tech Center in Warren, MI.
The award honors Dr. William G. Agnew, retired from General Motors Research Laboratories. His concept for establishing the A World In Motion (AWIM) program and his support of AWIM since its inception deserves recognition by this award.
AWIM is a teacher-administered, industry volunteer-assisted program that brings science, technology, engineering and math (STEM) education to life in the classroom for students in Kindergarten through Grade 8. Benchmarked to the national standards, the AWIM program incorporates integrated STEM learning experiences through hands-on activities that reinforce classroom STEM learning.
Rosana has been an AWIM volunteer since 2002 and a member of the AWIM Leadership Committee since 2011. In May of 2013, she received the "SAE Detroit Outstanding Service to AWIM Award for Outstanding Contribution to the SAE Detroit Chapter." This was for her contribution to re-engaging the AWIM programs in the Pontiac, MI, school district at all the elementary schools beginning in 2012. The plan is for K-8th grades at all Pontiac Schools to be participating in AWIM programs by 2017.
Also, Rosana has been an AWIM guest speaker at the Society of Women Engineering Detroit Section "Girls Engineering Exploration Day" and has spoken at the SAE Detroit –Student Chapter Kick off meetings promoting AWIM and volunteering. Her passion for AWIM has been a key driver for her to share AWIM with multiple schools and corporations to assist with their own AWIM program outreach.
Established in 2003, this award recognizes volunteers who further develop students' understanding and experience in math and science by helping teachers use the AWIM materials in the classroom. The nominee must be a volunteer that has assisted a teacher integrating the AWIM program in the classroom and must have participated in classroom activities during the current academic year. Nominees do not have to be professional engineers. College and/or high school students who have served as volunteers and non-engineers are eligible for the award as well as professional engineers.
SAE International is a global association committed to being the ultimate knowledge source for the engineering profession. By uniting over 127,000 engineers and technical experts, we drive knowledge and expertise across a broad spectrum of industries. We act on two priorities: encouraging a lifetime of learning for mobility engineering professionals and setting the standards for industry engineering. We strive for a better world through the work of our charitable arm, the SAE Foundation, which helps fund programs like A World in Motion® and the Collegiate Design Series™.