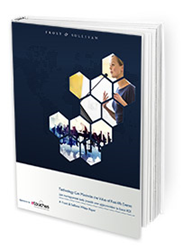 Through Technology Can Maximize the Value of Real-Life Events, planners will learn the importance of using an event software that provides a 360-degree view and it will enable them to drive even more value to their stakeholders, speakers & attendees.
Norwalk, Conn. (PRWEB) June 29, 2016
etouches, a top global provider of cloud event management software, today announces the release of a new industry white paper focused on the value that event management software technology brings to leading organizations globally. Developed in conjunction with industry experts at Frost & Sullivan, the eminent growth partnership firm that develops strategies for the Global 1000, the white paper focuses primarily on ways to optimize the value of software technology in the execution of corporate event strategy. Leading organizations' event professionals will learn best practices to help them maximize value for their organization through event software.
Through the white paper Technology Can Maximize the Value of Real-Life Events, planners will learn the importance of using an event software that provides a 360-degree view and it will enable them to drive even more value to their stakeholders, speakers and attendees. With more than a third of B2B marketers using in-person events as part of their marketing strategies, planners need now more than ever to ensure that attendees are having a positive user experience to make their investment worth it.
"Our enterprise clients are in constant demand of robust and consolidated solutions to not only gain more insights on business growth, but to also determine their ROI overall as events represent up to 25% of a marketing team's budget," said Vice President of Global Marketing for etouches, Nicola Rossetti. "Frost and Sullivan experts brought their world-class enterprise knowledge to assemble clear strategies with concrete execution patterns to adopt event management software, yielding to concrete results for these organizations."
Event organizers will learn ways to leverage different aspects of event software from registration to venue sourcing to mobile that will provide proven attendee engagement methods, in order to help them convert visitors, engage attendees and market post-event throughout the white paper. In addition, the paper outlines the critical features and functions needed to help achieve event and organization goals. Other highlights include:

Outlining the different software functions that should be utilized, and at which stage in an event from venue sourcing to ROI
What capabilities your integrated solution provider should have
Understanding the structure needed within your event management software to provide optimal results
With 27% gains in productivity and 30% overall cost savings, implementing successful companywide processes with enterprise level event management software has become critical for all organizations.
Download a complimentary copy of the white paper at get.etouches.com/tech-maximize-value-of-real-life-events.
About Frost& Sullivan:
Frost & Sullivan is a growth partnership company focused on helping clients achieving transformational growth as they work through an economic environment dominated by accelerating change, increasing risk and the powerful disruptive impact of the conversion of new business models, new technologies and mega trends on their industry. The global research and consulting organization is uniquely positioned to empower clients to create visionary growth strategies for their futures. With over 1800 analysts, growth consultants, and visionaries in 45 global offices from North America, Latin America, Middle East, Europe, Israel and Africa, Asia Pacific, South Asia, the company focuses on identifying the "Next Big Things" in every industry it covers. Learn more at frost.com.
About etouches:
etouches is a global end-to-end event management software solution. The success oriented and cloud-based platform delivers innovative technology solutions to streamline the event process and increase ROI. Founded in 2008, etouches has assisted over 20,000 event professionals in planning, executing and measuring their events. With a focus on event sourcing, registration, marketing, logistics, engagement, mobile and data, the software solution has been able to serve more than 1,200 customers in corporations, associations, agencies and educational institutions. Headquartered in the United States in Norwalk, CT, the company has a second office in Orlando, Florida and five global offices in the United Kingdom, Belgium, Australia, UAE, and Singapore. Learn more about etouches at etouches.com.