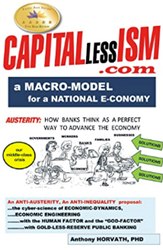 In my book I break down the current economy by viewing it through a unique lens as a dynamic circulation of financial information and how individuals can rebuild a capital-less free enterprise system for the democratic nation
MONTREAL (PRWEB) June 29, 2016
When crisis hits, can America's capitalist system survive without sufficient capital to fuel its economy? How would that work? Dr. Anthony Horvath, a retired professor from the University of Quebec, has produced a system that will prove that it can indeed be done in his new book, "CAPITALlessISM."
In "CAPTIALlessISM," Horvath shows readers an in-depth look at the democratic economy and guides them to understand its intricacies and flaws in order for them to come up with unique solutions for their systems.
"In my book I break down the current economy by viewing it through a unique lens as a dynamic circulation of financial information and how individuals can rebuild a capital-less free enterprise system for the democratic nation," Horvath said.
Horvath also discusses national debts, as they are a major topic in the political arena and a concern to billions of individuals. Through his contributions to our economic crisis, Anthony's examination serves as potential solutions to debts.
"Through research and findings, I propose a virtual E-capital creation process and a capital circulation system similar to our blood circulatory system," Horvath said.
Horvath's writing serves all audiences at all education levels, which makes learning about the economy easier. Through Horvath's created system, he uses similarities between vital information flow in an organization and vital capital flow to create a self-sufficient national economy that would sustain everyone.
For more information, visit: http://www.capitallessism.com
CAPITALlessISM
By: Anthony Horvath
Available in e-book
Available on Amazon, Barnes & Noble and Xlibris
About the author
Dr. Anthony Horvath is a Hungarian-born immigrant who came to Canada in 1957 to escape Communism. Horvath is a retired professor from from the University of Quebec and a long-time educational technology consultant for McGill University's Dental department and for the Quebec Ministry of Education. Currently, Horvath is a director of the Canadian Hungarian Chamber of Commerce. Horvath resides in Montreal and enjoys physics, mathematics, and cooking.
# # #
**FOR IMMEDIATE RELEASE**
For review copies or interview requests, contact:
Katie Wenclewicz kwenclewicz(at)bohlsengroup(dot)com 317.602.7137