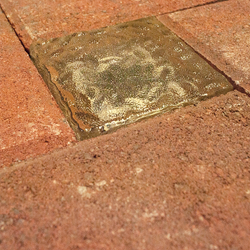 Let there be light.
Bogota, New Jersey (PRWEB) June 30, 2016
Entirely powered by the sun, the eco-friendly, self-enclosed light panels come with a rechargeable AAA battery which can power the light for up to 5 hours overnight and automatically recharges during the daytime. For easy maintenance the Iced Rock Landscaping Lights have an on/off switch and easy access for battery replacement.
The Solar Powered Iced Rock Landscaping Lights are easily installed with no wiring required. The ultra durable glass of the Solar Powered Iced Rock Landscaping Lights can support up to 3,300 lb and is water resistant; making the lights ideal around pools, driveways and walkways for providing soft illumination in dark places.
Available in warm white and RGB (Red, Green, Blue) color temperature, setting the right mood is easier than ever with your choice of lights. For added customization, Iced Rock Landscape Lights come in 3 sizes: 3"x 3"x 2"; 4"x 4"x 2"; 2"x 8"x 2". Solid construction of these lights allows for placement on grass, sand, pebbles and mulch without weatherproofing or special tools. Fun lighting arrangements and patterns can be easily laid out with the different shaped lights making them great for kid and adult playgrounds.
To get your Solar Powered Iced Rock Lights visit:
http://www.outwatercatalogs.com/lg_display.cfm/page/77/catalog/Lighting_2016
About Outwater [Outwater Plastics Industries, Inc. + Architectural Products by Outwater, LLC]: Outwater can be contacted Toll Free at 1-800-631-8375 (For sales and product information in the USA & Canada) / 1-201-498-8750 (For sales and product information outside of the USA & Canada) or viewed online at http://www.outwater.com
Outwater, 350K SQ FT industry leader since 1972 with branches in New Jersey and Arizona, is recognized for providing competitively priced, innovative, professional grade building components nationwide. Catering to commercial and retail end users, Outwater products include Store Fixture Components; Knobs & Pulls; Extrusions; Surfacing Materials; Casters; Fasteners; Laminates; Exhibit & Display Fastening Systems; Literature Displays; Sign Holders; Slatwall; POP and Signage Components; Interior & Exterior Wood and Polymer Architectural Mouldings & Millwork; Columns & Capitals; Decorative Wood Carvings; Faux Stone Panels; Faux Wood Beams; Balustrading; Genuine Stone Tiles; LED Lighting and Lighting Accessories; Wrought Iron Components; Stamped Steel & Polymer Ceiling Tiles; Wall Coverings; Brass Tubing & Fittings; Kitchen & Bath Accessories, and more.