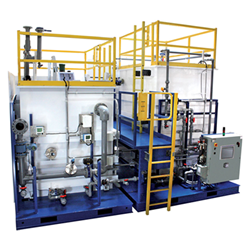 Receiving our ISO 9001 certification justifies the efforts of our engineering department, manufacturing team and administrative staff."
Los Angeles, CA (PRWEB) July 06, 2016
Wastech Controls & Engineering, Inc is pleased to announce it has been awarded its ISO 9001 Quality Management System certificate by ABS Quality Evaluations in Los Angeles, California for continuous product quality improvement, commitment to customer satisfaction, and excellence in after sales services.
ISO 9001 certification sets out the criteria for a quality management standard geared toward improving quality product and services through implementation of key processes and utilization of measures to determine operational effectiveness of such processes. The standard is based on a number of quality management principles including a strong customer focus, the motivation and implication of top management, the process approach and continual improvement. Using ISO 9001 helps ensure that customers get consistent, good quality products and valued services.
"Achieving our ISO 9001 certification represents a major milestone for us," says company president and CEO, Paul Nicolas. "From our in-house engineering department, to the technology we incorporate into our systems and processes, to the stringent quality control we apply to our design, Wastech has always put quality ahead of everything else. Receiving our ISO 9001 certification just helps solidify this concept and justifies the efforts of our engineering department, manufacturing team and administrative staff."
ABOUT WASTECH CONTROLS & ENGINEERING
Wastech Controls and Engineering, Inc. is a leader in process integration, engineering and manufacturing of fully automated industrial process systems such as ph adjustment systems, pump lift stations, solvent collection cabinets, chemical collection cabinets, heavy metal removal systems, vacuum distillation evaporators, acid waste neutralization systems and custom process skids throughout the world. Wastech's core strengths are its people and their experience in process oriented industries. Wastech directly employs all engineering disciplines required to thoroughly design, fabricate, and commission systems for various market segments. Its process, chemical, mechanical, electrical and control system engineers come from diverse backgrounds with a range of experience from facility design, manufacturing and construction that enable Wastech to tailor its systems to meet the specific needs of its clients.
Wastech's highly skilled fabricators and assemblers are competent in welding all types of plastic, assembly of piping and equipment, and installation of analytical instruments. Its panel fabrication shop is certified for UL 508A and UL 698A industrial control panels, and is unrivaled in build quality. Wastech is a certified member of the Control Systems Integrators Association (CSIA). Wastech has an unparalleled and distinguished history of continued customer service and support following systems startup and commissioning. Wastech is committed to partnering with customers during the sales, manufacturing and post-sale cycles