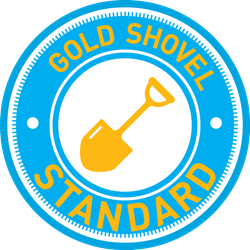 "We are excited to have the first Gold Shovel Standard endorsed training program in the country"
Phoenix, AZ (PRWEB) June 30, 2016
Gold Shovel Standard, a nonprofit association created to provide a first-of-its-kind excavation safety program, today announced that the Certified Excavator Program in Safe Digging Best Practices from Dig Safely New York, Inc., has been approved by the association as meeting the Gold Shovel Standard, a single uniform standard that raises the bar for excavation safety.
Now, all excavators working in the state of New York, can choose to use Dig Safely New York's Certified Excavator Program as their training when applying for Gold Shovel Standard certification. The training becomes the first publicly-available program which has achieved the Gold Shovel Standard endorsement. Prior to this announcement, those excavators with the Gold Shovel Standard certification had to provide their own training content for enrollment.
To achieve its goal of dramatically reducing damages to buried infrastructure from excavation, the Gold Shovel Standard certifies an excavator's policies and procedures against a set of excavator procedures designed to protect underground facilities, known as the Gold Shovel Standard. The association also publishes a rating, known as an EICO™ score, which is an ongoing measure of an excavator's digging-safety-worthiness.
"We are excited to have the first Gold Shovel Standard endorsed training program in the country," Said Kevin Hopper, Executive Director, Dig Safely New York, Inc. "The Dig Safely New York Certified Excavator Program in Safe Digging Best Practices provides excavators working in New York with an opportunity to gain in-depth field knowledge on the best practices that should be used in the field in accordance with New York State Code Rule 753, as well as the Common Ground Alliance Best Practices. Going through the intensive and interactive training allows an excavator to be equipped with the information necessary to make the right calls and take the correct safety precautions when it comes to our underground infrastructure. "
About Dig Safely New York, Inc. - Dig Safely New York, Inc. is the one-call center serving as the link between excavators and the underground utility owners/operators for the service area including upstate NY, Westchester county and north. The corporation was established in 1969 and works to promote an easier, safer digging environment. The mission of Dig Safely New York is to prevent damages to underground facilities and protect the public through education and quality communication with excavators, underground facility operators, and designers in an efficient, courteous, and cost-effective manner, while complying with governing regulations.
About Gold Shovel Standard – Gold Shovel Standard is a nonprofit association created for the purpose of expanding the Gold Shovel Standard program, which was originally pioneered by PG&E, to create a North American scale program, driven by industry and underpinned by data technology, to unify excavation safety under a single broadly meaningful professional brand, that raises the bar for excavation safety. Through peer-to-peer collaboration, and by monitoring the performance of individual excavators across networks and geographies, Gold Shovel Standard will be the first program capable of targeting incentives directly at specific excavation companies on a North American scale.
Gold Shovel Standard Media Relations
Phone: 855-ORO-PALA (855-676-7252)
http://www.goldshovelstandard.com
Dig Safely New York, Inc. Media Relations
Phone: 315-437-7394
http://www.digsafelynewyork.com