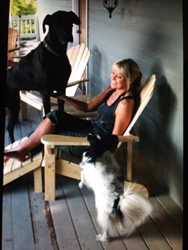 Tucson, AZ (PRWEB) June 29, 2016
When Barbra Jorunn Trosvik and Edward A. Newsome decided they wanted to spend retirement doing something they loved, they knew it would be about animals. Now the two are excited to announce that they've opened their own business dedicated to helping pets live longer, healthier lives through great nutrition – Pet Wants of Tucson.
Pet Wants' carefully developed proprietary pet food is slow-cooked with fresh, all-natural ingredients. The company's distributor makes the dog and cat food in small batches once per month so every kibble is guaranteed to be fresh and packed with nutrition. Pet Wants of Tucson is a franchise of the Pet Wants Franchising Systems and the mobile service delivers to the greater Tucson region.
"Nutrition is one of the most important factors in a pet's health and longevity, so what better way to satisfy my passion for animals than to franchise with a company whose vision is Love, Health and Convenience? Pet Wants makes it easy for Pet Parents to love their pets by providing the best nutrition and health possible with fresh food conveniently delivered right to their door," Barbra said.
Barbra and Edward were interested in Pet Wants because of their love of animals – they have a 4-year-old mini pig named Vino and a 13-year-old Ragdoll cat named Mushu as well as fostering one to two dogs at any given time. Barbra retired from the legal field and Edward, a Marine veteran, retired from the Army Corp of Engineers.
"My love for animals was instilled in me when I was a small child. I had always intended to go into a career of animal husbandry of some sort, but my actual career path led me in other directions. Now that I'm retired, I'm driven to get back to where my heart has always been – working with pets. When I learned about Pet Wants and the positive impact good nutrition can have on pets, I knew I'd found my path," Barbra said.
In addition to making the food fresh each month, Pet Wants only sources the best salmon, chicken, lamb, brown rice and other ingredients and there's no sugar added, no fillers and no animal by-products. Also, since Pet Wants never uses corn, wheat, soy or dyes, the food is a great fit for pets with allergies.
"We've had pets throughout our lives and, when you think about the dramatic impact proper nutrition can have on animals, it's hard not to wonder if they may have had longer, healthier lives if they'd had better food. We are motivated to help other families give their pets long, healthy, happy lives. That's a big deal for us and we're excited to offer Pet Wants to this region," Edward said.
Pet Wants originally launched in Cincinnati in 2010. Owned by Michele Hobbs, the business was built to provide proprietary crafted, fresh, slow-cooked, all-natural pet food delivered to customers through a retail store and a convenient home-delivery service. Hobbs, now the company founder, turned the business into a franchise in 2015 with the help of Franchise Funding Group, an investment and franchise-development company designed to help entrepreneurs scale their companies nationally as franchise systems.
To order Pet Wants food for your favorite companion or to learn about the company, call (520) 909-9770, email BTrosvik(at)PetWants.com or visit http://www.PetWantsTucson.com.
About Pet Wants: Pet Wants was started by Michele Hobbs out of love for her pets and frustration. Veterinarians were unable to help relieve her dog's painful skin allergies. After doing much research, Michele discovered the national dog food brand she trusted was not fresh, not all natural, and lacked sufficient nutrition...and when pet food sits in warehouses and store shelves for months and months… it loses even more nutritional value. She was committed to developing a better solution for all dogs and cats. Their food is exclusively crafted… fresh, healthy, slow-cooked and all natural with no sugar added, no fillers and no animal by-products. They source only the best salmon, chicken, lamb, brown rice, and other ingredients. Fresh ingredients make for better food… and better health for pets. And since they never use corn, wheat, soy or dyes, the common pet health problems associated with these ingredients are no longer worries. Their fresh food is conveniently delivered to the customer within weeks of production, not months. Roughly half of Pet Wants products are sold through their store and half through their convenient, home-delivery program. You can learn more at http://www.PetWants.com.