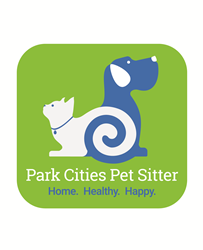 "The new tag line represents points from our core company mission; animals in their home environment are happier and healthier." Joette White, President of Park Cities Pet Sitter
Dallas, Texas (PRWEB) June 30, 2016
Park Cities Pet Sitter is debuting their new company logo and tag line this week at the annual 4th of July Park Cities Parade and Picnic in Dallas. A vendor at the annual event, Park Cities Pet Sitter chose to introduce the new company symbols at this event since it is in the heart of their service area, and many current clients regularly attend the event.
Park Cities Pet Sitter's new logo is blue, lime green and white and depicts a cat and dog with their backs to each other but with their tails entwined closely. Below the animals are the company's name and their new tag line "Home. Healthy. Happy."
Park Cities Pet Sitter President, Joette White, said a lot of thought went into every element of the new logo and tag line. "The different colored cat and dog signify the wide variety of amazing caregivers we have, that are not cut from the same mold," said White. "They are unique individuals with diverse backgrounds. The perfectly intertwined tails in our new logo signify the teamwork that we demonstrate in everything we do. We are different as individuals, but we come together seamlessly to take care of our clients and their pets. The color palette was chosen because of the soothing effects these colors have, just like how our services provide peace of mind and comfort to our clients. We chose the new font because it is simple, clear, easy to read and professional; approachable and friendly like we are as a company. And lastly, the new tag line represents points from our core company mission; animals in their home environment are happier and healthier. We wanted to make sure the new logo and tag line truly represented the type of company we are, and we think we were successful at doing so. I am very happy and proud to show it to everyone starting this week."
Ms. White also mentioned that having a new logo was important to modernizing the overall look of the company as they enter their 25th year in business in 2017. "It is truly amazing how much the pet sitting industry and Park Cities Pet Sitter have changed in the last couple of decades," said White. "We are also about to launch a new website that is more mobile friendly, roll out a new scheduling software, and shortly we will have staff carrying iPads and smart phones in order to manage their daily activities. Dog walking and pet sitting are professional services we take very seriously, so we constantly are looking for ways to improve ourselves. Being modern in today's pet service world means paying attention to how you can use technology to provide the best service for our clients."
Park Cities Pet Sitter will be updating all of their marketing materials in the next 60 days to reflect the new logo; they will also launch their new website and scheduling software in about one month.
About Park Cities Pet Sitter: PCPSI has served the Dallas area 7 days a week, 365 days a year since 1992. Pet sitting, daily dog walks, pet taxis, overnight sitting, pet supply shopping, litter box cleaning and dog training are all part of the services PCPSI offers. Park Cities Pet Sitter is bonded and insured, and all sitters are employees--not independent contractors. A manager is on-call 24 hours a day to handle any emergencies. Additional information about Park Cities Pet Sitter can be found on their website at http://www.pcpsi.com.