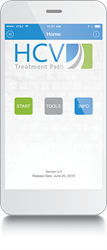 (PRWEB) June 30, 2016
BioPlus Specialty Pharmacy (BioPlus), one of the nation's leading innovative specialty pharmacies, announces the release of 'HCV Treatment Path' app version 4.0. This revamped version brings an enhanced interface to improve the ease of use on mobile devices, as well as guidelines on all the hepatitis C medications including even the latest: Epclusa® (sofosbuvir/velpatasvir) from Gilead that was approved by the FDA on June 28, 2016.
This updated edition of the HCV Treatment Path app, designed to be used by prescribers, provides the latest therapy guidelines for treating chronic hepatitis C virus (HCV) infections. The app offers prescribers and other users additional features and the most up-to-date content. There are numerous medications that a prescriber could select for each individual case. This app offers guidelines and tools to streamline the selection of treatment that is best-suited to individual patients, based on criteria from experts such as the FDA and the AASLD (American Association for the Study of Liver Diseases). The HCV Treatment Path app, which earned a 5-star rating from iTunes, has already been downloaded for use by 3,100 prescribers.
"It's exciting to get this latest version of our HCV Treatment Path app into prescribers' hands to aid in the process of navigating the ever-changing HCV treatment landscape," shares Elvin Montanez, Pharm.D., Chief Operations Officer at BioPlus. "As we work with prescribers, we've found even more ways that we can improve the performance and functionality of the application in ways that are relevant to the user experience," Dr. Montanez adds.
About BioPlus Specialty Pharmacy
BioPlus Specialty Pharmacy is the first specialty pharmacy to introduce a two-hour turnaround from referral to patient acceptance. BioPlus... Where healing begins in 2 hours. Our company celebrates 27 years of innovative excellence in specialty pharmacy, working closely with payers and the pharmaceutical industry, as well as with prescribers to get prompt treatment for patients, and directly supporting our patients nationwide to achieve optimal health outcomes. Our proprietary web tool Tap App connects prescribers to the pharmacy by bringing the pharmacy chart into the doctor's office with real-time specialty pharmacy information and treatment monitoring.
BioPlus provides a complete range of specialty services, including for hepatitis C, multiple sclerosis, cancer, bleeding disorders, and other complex, chronic conditions. BioPlus, a privately-held, pharmacist-owned company based in Altamonte Springs, Florida, is accredited by URAC, VIPPS, and the Accreditation Commission for Health Care (ACHC).
For information: http://www.bioplusrx.com or
Contact: info(at)bioplusrx.com
Phone: 1-888-292-0744
###